The Village of Los Yesos
Los Yesos is a small rural hamlet that is gradually being brought back to life. Around 12-15 years ago there were only two inhabitants, however now existing ruins are being reformed and new homes and farms (cortijos) are being built in the surrounding area. Although the village of Los Yesos has no amenities yet, within a short 5 minute drive you can find the coastal village of La Mamola where all supplies can be obtained. La Mamola, a small Costa Tropical village of just over 900 year-round inhabitants, is located on the Mediterranean seashore.
Los Yesos is situated on the easternmost edge of the Costa Tropical and borders on the Almería province, a desert area that offers incredible attractions of its own. Access information on the Almería province for more recommended tourist destinations.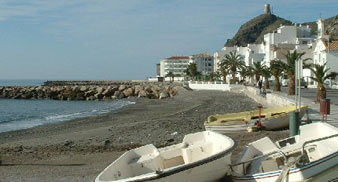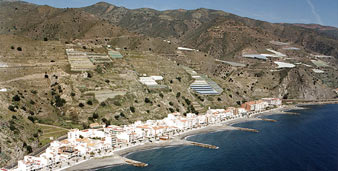 ---
Village Information
| | |
| --- | --- |
| Municipality: | Polopos |
| Region: | Costa Tropical |
| Post Code: | 18750 |
| # of inhabitants: | ~ 100 |
| Distance to Granada: | 90 km |
Where is Los Yesos located?
Los Yesos of the Costa Tropical in the Granada province is a traditional small mountain village located near the Mediterranean coast of Spain in the Andalucia (Andalus) region, east of the cities of Motril and Almuñécar along the N-340 highway and about a one-hour drive from the cities of Granada and Malaga. Los Yesos is accessible by small backroads from nearby La Mamola, which is in turn easily accessible by main the highway N-340.
Getting There
From Granada, take the major N-323 highway to the coast. Once at the Costa Tropical town of Salobreña, take a left on the principal Costa Tropical highway N-340 heading east towards Motril and Almería. In about 30 minutes, there will be exit signs for La Mamola.
From Malaga, take the N-340 highway going east towards Almuñécar, Motril, and Almería. About 30 minutes after passing the major town of Motril (located to the east of Almuñécar and Salobreña), look for the exit signs for the town of La Mamola. Once in La Mamola, follow the road signs to Los Yesos.

Who are we?
An American expat with over 20 years of experience living and traveling in Spain, specifically in Malaga and Granada. Darsey is a seasoned explorer of Andalucia. Drawing from decades of immersive experience, she offers deep insights into this enchanting region of Spain, including off-the-beaten path destinations, the best places to stay, and the top bucket list activities to try!
More...
Want to Save on your Next Trip?
Save money on your next trip with our favorite travel websites!
Find the Cheapest Hotels:
The Largest Selection of Villas & Apartments:
Cheapest, Most Reliable Car Rentals:
Best Bus & Train Fares:
Huge Selection of the BEST Tours & Activities
Discount Tickets to Museums & Attractions

See our Full List of Travel Deals & Site Recommendations Here.
Los Yesos on the Map
The Costa Tropical Villages