The Village of Pampaneira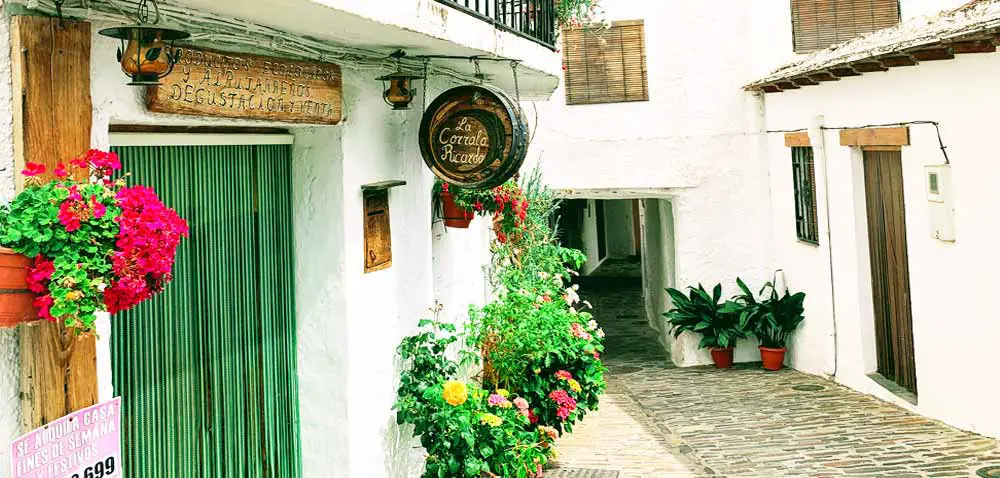 💡
Affiliate Disclosure:
  Please be aware that some links on this site are affiliate links, which means that we might receive a small commission ☕ if you click a link and make a booking. This helps us to keep the site running and will NOT affect the price you pay in any way... ❤️ 🙏 🙏 ➜
How does this work?
---
The Mountain Village of Pampaneira, High in the Alpujarras...
High in the Sierra Nevada Mountains and nestled within the Poqueira Gorge lies one of the "Most Beautiful Villages in Spain"... Pampaneira.
And Pampaneira isn't the only pretty village found along this ravine. The two neighboring villages of Bubión and Capileira are equally as beautiful. Capileira can also be found on Spain's exclusive "Prettiest Villages" list.
---
Check out the other Alpujarra villages:
Lanjarón
-
Órgiva
-
Capileira
-
Bubión
-
Pitres
-
Trevélez
Pampaneira's Top Hotels
Hotels in Pampaneira.
More>
Pampaneira's Top Cottages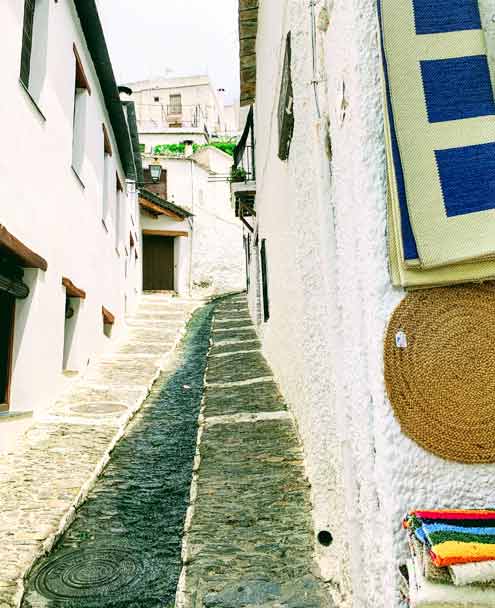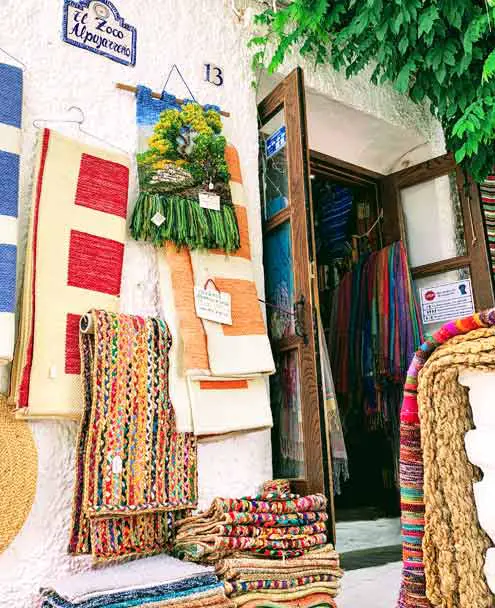 ** Beautiful Pampaneira streets and colorful woven rugs.
With only 340 inhabitants, Pampaneira is a very popular tourist destination. People love its unique Berber architecture, ancient Alpujarra culture, gorgeous mountain vistas, and the nearby Poqueira Nature Preserve with its sumptuous hiking trails.
Pampaneira is known for its historic white houses with flat roofs, typical Berber chimneys, and arched alleyways or 'tinaos' that are covered year-round in beautiful red and pink flowers. Its traditional handmade crafts are also popular including pottery, colorful textiles and rugs, and delicious specialty food items.
Why Visit Pampaneira? Combine the entire Poqueira Gorge, with its stunning waterfalls, bridges, and hiking trails with some of Spain's loveliest villages and you have an area that is not to be missed!
---
---
What is the Poqueira Gorge?
The
Poqueira Gorge
is a deep ravine that is located just under Spain's two highest peaks,
Mulhacén
and
La Veleta
. It lies within the Sierra Nevada National Park at more than 1000 meters above sea level.
The gorge is famous for its lush vegetation, giant old oak and chestnut trees, the Poqueira river that runs through its center, and incredible hiking trails with views of the Poqueira villages (Pampaneira, Bubión, Capileira) and the waterfalls below.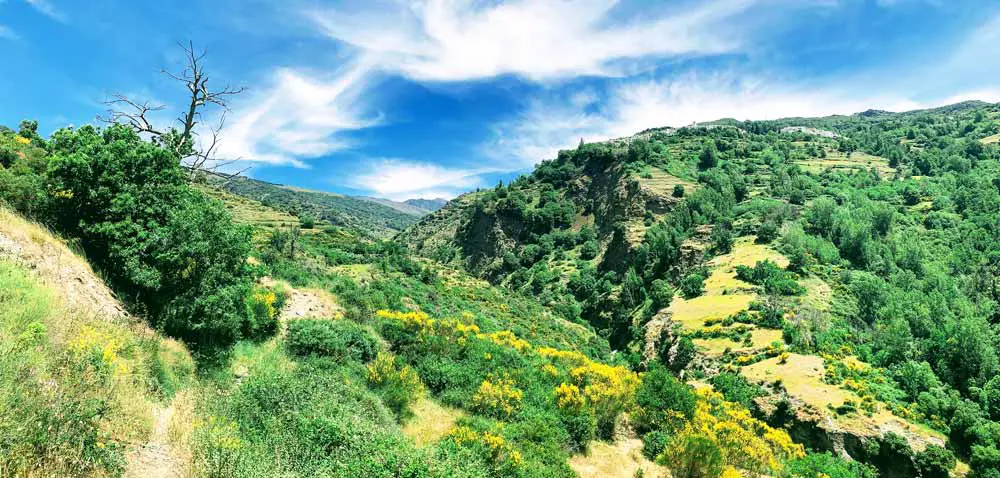 ** View of the Poqueira Gorge from the Atalaya hiking trail. Villages can be seen in the distance.
Because of the beauty and uniqueness of the area, it has been declared a "Conjunto Histórico Artístico" by the Spanish government, an area of particular artistic and historical importance, and has won the National Tourism Award twice.
---
Where is Pampaneira?
Pampaneira sits in the southeastern corner of the
Province of Granada
, high in the Sierra Nevada Mountains. It's the lowest of the Poqueira Gorge towns and is just 68 kilometers from the capital city of Granada.
Pampaneira is also located near the Mediterranean coast, specifically the Costa Tropical. It's just over an hour from the primary Costa Tropical towns of Almuñécar, Motril, and Salobreña and is easily accessible by well-maintained roads and highways.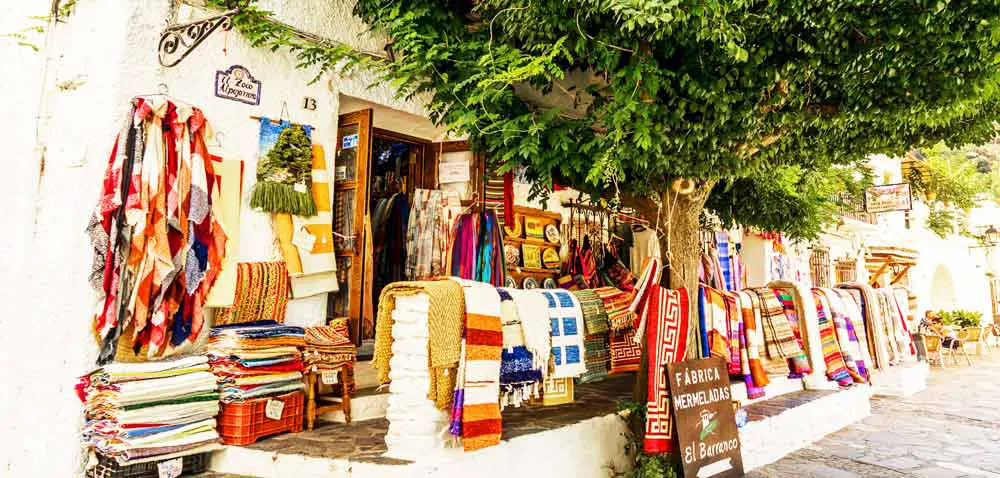 Where to Stay in Pampaneira
Where you stay in Pampaneira is going to depend on what you plan to do in the area...
If you are planning on hiking, we highly recommend you stay in the village of Capileira, that way you will be hiking in the easiest direction... down! Capileira also has more options in terms of hotels and rentals. Check Places to stay in Capileira here.
Our three top recommendations in Pampaneira are:
TOP PAMPANEIRA HOTELS - HOSTAL PAMPANEIRA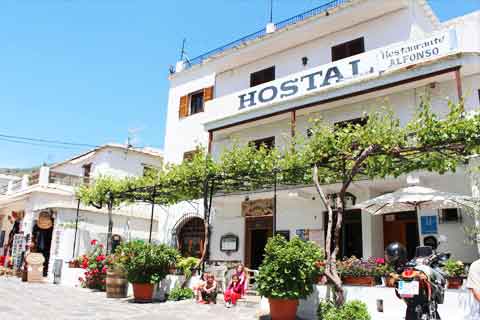 TOP PAMPANEIRA HOTELS - DREAMS ALPUJARRA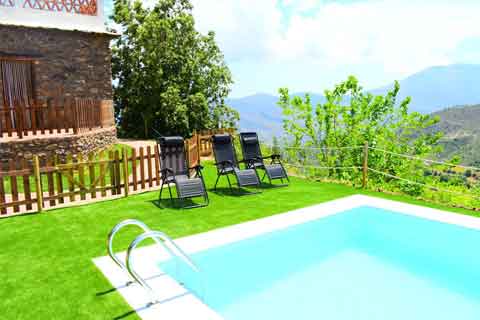 Rent a Pretty Cottage or Berber Home
TOP PAMPANEIRA HOTELS - RENT A COTTAGE!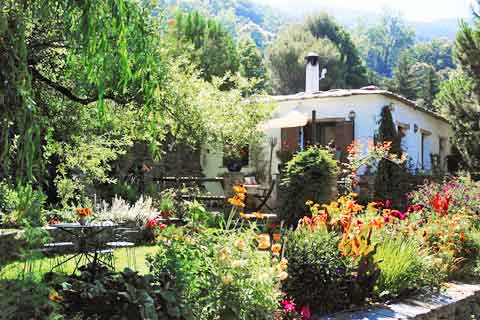 Trusted Partner VBRO / HomeAway.com
Another Option: You could always stay in the village of Pampaneira and take a taxi to Capileira to begin your hike, this way your hike will end near your hotel.
---
What to Do in Pampaneira?
Pampaneira is just a small little mountain village, but there is plenty for you to see and do. A visit to this charming town will take you about 2 hours.
---
1. Get Lost in its Beautiful Winding Streets and Alleys
The first thing you will notice upon arriving in Pampaneira, which sets it apart from other Spanish villages, is its historic Berber architecture. The characteristics that stand out are the typical whitewashed houses with flat roofs and smokey chimney-pots. Its pretty cobblestone streets are narrow and steep and adorned with hundreds of pots spilling over with flowers of every sort.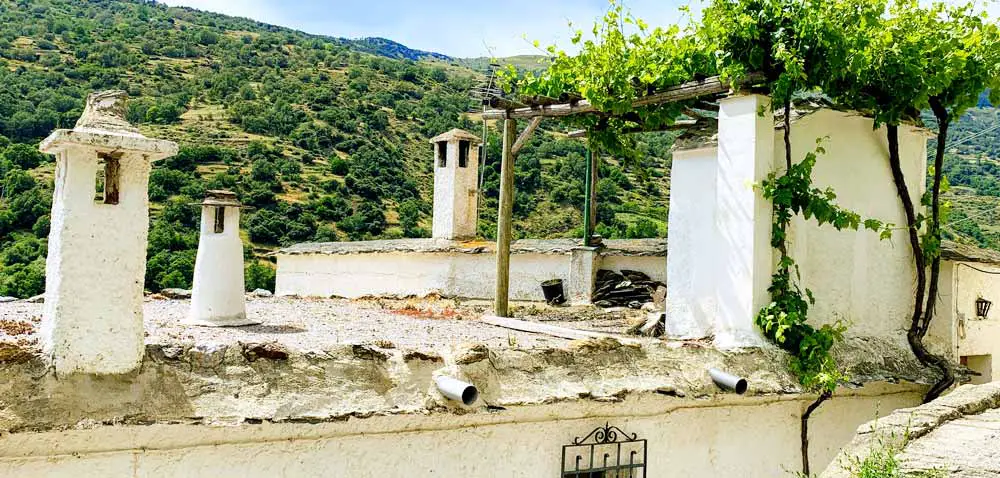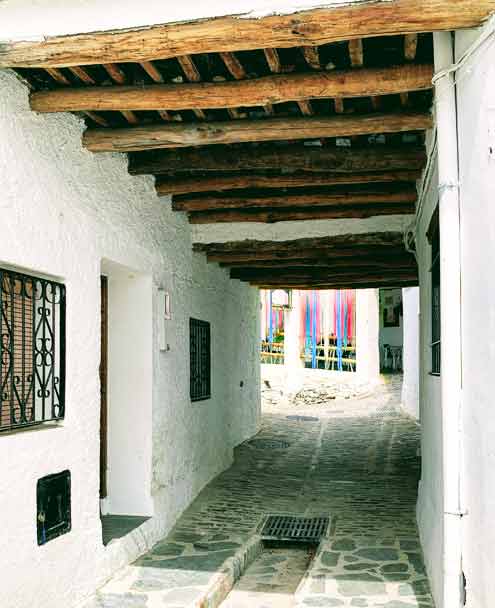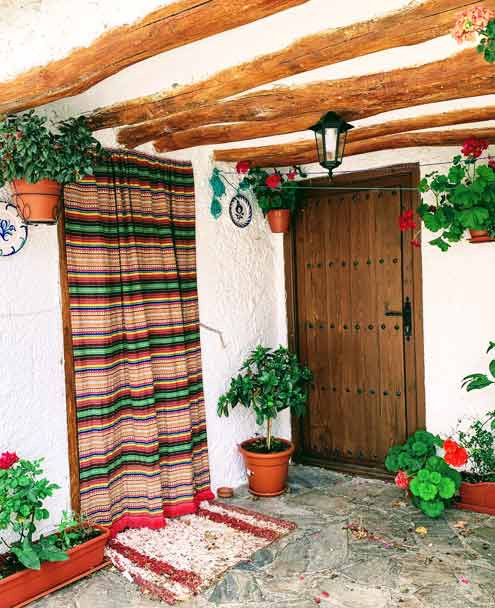 ** (1) The houses in Pampaneira with their characteristic flat roofs and chimneys (2-3) Pretty streets and tinaos.
Another very Moorish influence you will see is the "Tinao" or tunnels that run under the houses that are held up by wooden beams and slate. As well as the water channels that run through the middle of the streets that were once used as part of an irrigation system.
---
2. Visit the Top Sites in Pampaneira
The top places to see while you're in the village of Pampaneira are:
La Plaza de la Libertad

- This is where all the action happens! The Liberty Plaza is in the center of Pampaneira and where you will find all the best shops, restaurants, cafes and more...

Iglesia de Santa Cruz

- This is Pampaneira's main church that sits at the center of Liberty Plaza. It dates to the 16th century and was built in the Mudéjar style. The interior boasts a wooden coffered ceiling and gilded altarpieces dating to the 17th and 18th centuries.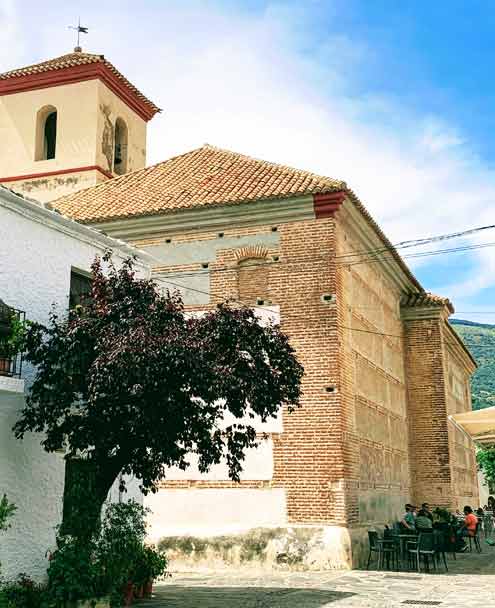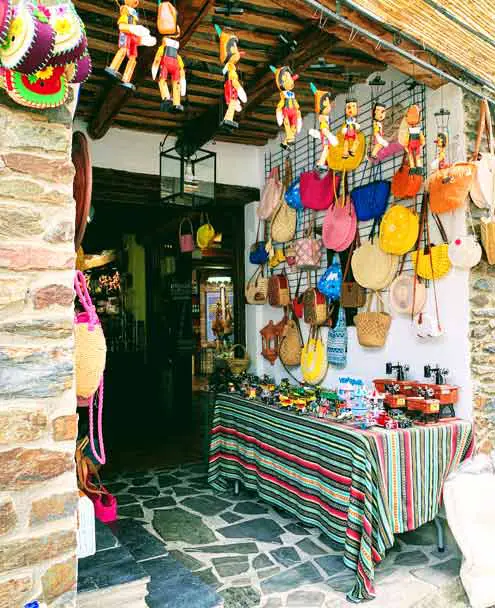 ** The Church of Santa Cruz in Pampaneira's main square and one of the many artisan shops.
Craft Boutiques & Workshops

- The Alpujarra area is known for its locally crafted textiles and pottery. You will find an abundance of brightly-colored blankets, rugs, and beautifully woven clothing. There are also numerous pottery boutiques and shops dedicated to other local crafts and homemade food products like jams, honey, wines, and cheeses.

Chocolate Abuela ili

- Chocolate is another delicacy the Alpujarras is known for, and you will find this fantastic chocolate shop right across from the Santa Cruz Church in Liberty Plaza.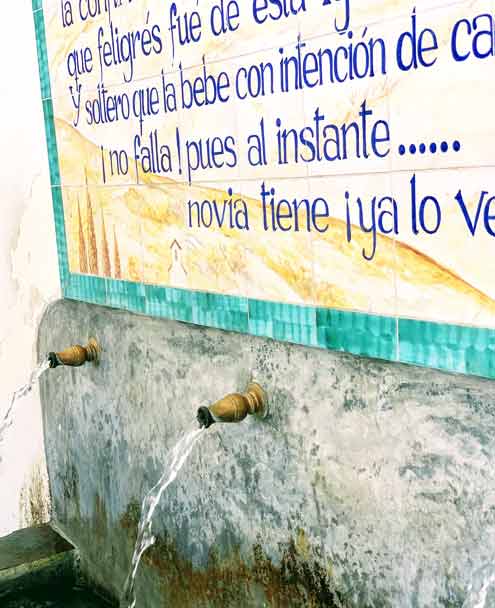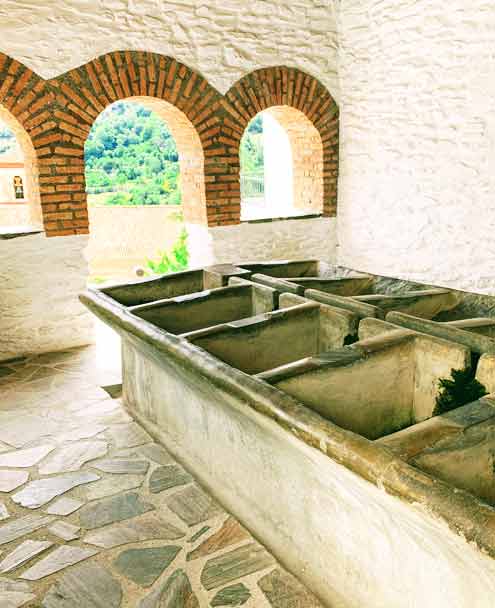 ** The "La Chumpaneira" fountain and the historic "lavandero" or laundry house.
Fuente de San Antonio "La Chumpaneira"

- Directly across from the church you will find this interesting fountain. The plaque above it reads: "A source of virtue and powers such that when an unmarried man drinks from this fountain, he will marry without fail; he will instantly find a girlfriend. Try it and see!"

Lavadero de Pampaneira

- Located just above the Plaza, overlooking the church, you will find the ancient town laundry house. The building is still in great condition and from there you will enjoy beautiful views of the town below.
3. Join a Tour to Pampaneira
There are so many fun tours to take advantage of when visiting Spain. If you're not sure about getting to the Alpujarras on your own, you also have the option of joining a
Day Tour
that leaves from
Granada
.
There are also numerous outdoor activities and tours you can join if you're feeling adventurous, like rafting, hiking, cycling, or even a Four-Wheel Drive Safari... a few are listed below. See them all here...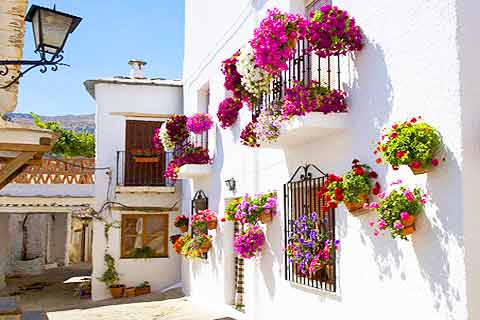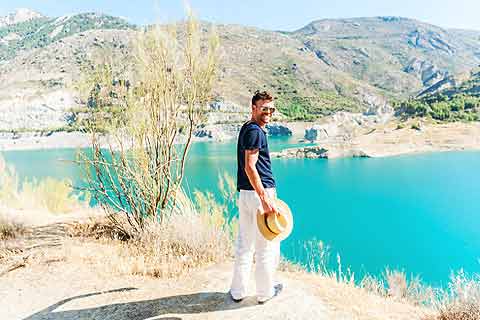 ---
---
Famous Alpujarran Cuisine - Where to Eat!
Like typical mountain fare, Alpujarra cuisine is hearty. Pampaneira gets cold during the fall and winter months so what most people crave are hot dishes that will warm you through. The most popular dish you will find is the
Alpujarreño Platter
which consists of grilled potatoes, fried eggs, baked peppers, and several different types of locally made sausage. The
"Patatas a lo Pobre"
or Poor Man's Potatoes" is also a classic and is simple... yet delicious.
Two of the restaurants we enjoy the most while in town are...
RECOMMENDED RESTAURANT - PAMPANEIRA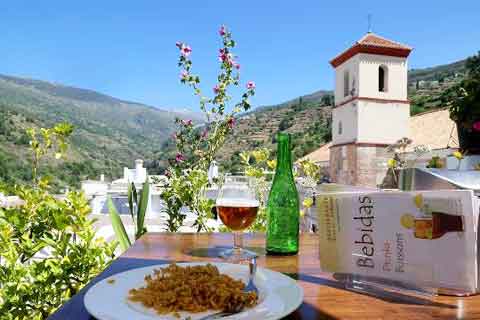 RECOMMENDED RESTAURANT - PAMPANEIRA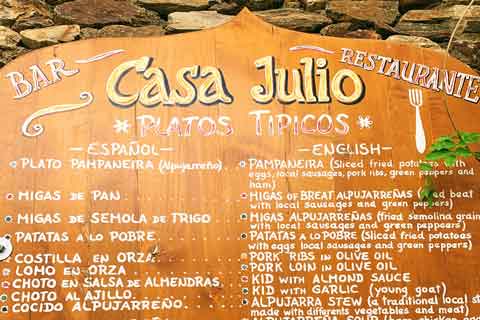 ---
Hiking in Pampaneira! - The Walks
One of THE TOP activities in and around the village of Pampaneira is hiking and trekking! One of the best hiking trails is the
Atalaya Trail
that does a circuit around the gorge and goes through the three villages. We did this with our children and it was FABULOUS! The entire hike takes about 3 hours and 40 minutes and then we stopped in Pampaneira for lunch and shopping.
The Atalaya Trail

- For more information on this trail read our guide on the Atalaya Trail full-day hike.

Pampaneira to Bubión

- If you are looking for a shorter hike you can take the path that leads out of Pampaneira to the next village in the gorge, Bubión. The hike takes 20-minutes, but a warning... it is ALL uphill.

Capileira to Pampaneira

- This is probably the easiest hike and the one to choose if you want something quick and easy. It's all DOWNHILL. The entire hike will take about 40-minutes, 20-minutes between each town. You can take your time and tour the villages on your way. If you don't want to hike back up, taxis are available for the quick 5 km ride back to the top.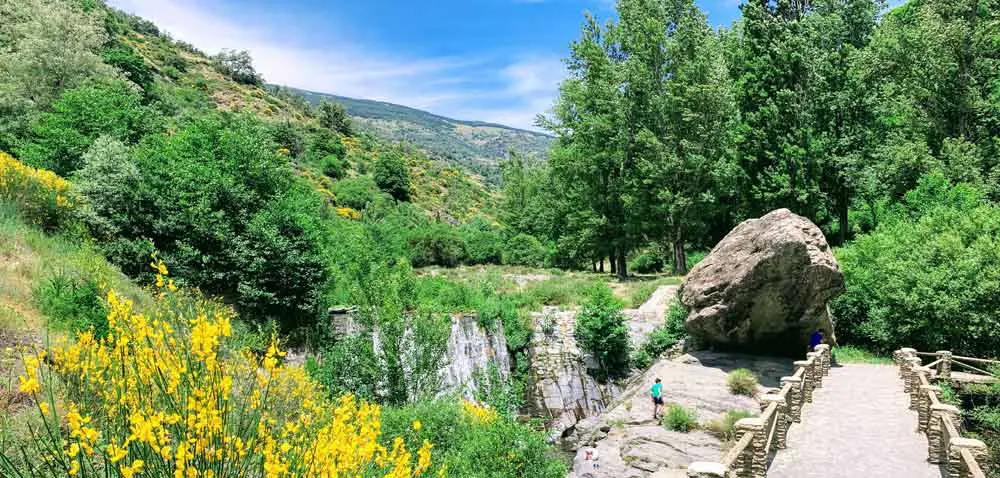 ** Pampaneira Bridge and Waterfall in the Poqueira Gorge.
---
Biking in Pampaneira - Where to Rent
Alpujarra Bikes
Location - Calle de La Carretera 51 Bajo, 18412, Bubión
Tel: +34 858 85 70 34
Website: www.alpujarrabikes.com
Opening Hours:
Fri - Sun: 10:00 AM - 6:00 PM
Email address: info@alpujarrabikes.com
Alpujarra Bikes, established in 2016, is a bike shop in the Alpujarras on the main road into the high mountains of Mulhacen and Veleta, including the highest cyclable pass in Europe at 3200m. They have bicycles to rent (road, xc, enduro, electric, children's) and a full workshop for repairs and services. They also stock a wide variety of spares, sports nutrition, and clothing.
---
Tourist Office
PAMPANEIRA TOURIST OFFICE
NEVADENSIS / SIERRA NEVADA NATIONAL PARK
Address - Freedom Square, 18411 Pampaneira (Granada)
Tel: 958 763 127
MOUNTAIN ACTIVITIES AND TOURISM: 659 109 662 & 659 843 157
Website: www.nevadensis.com
Opening Hours:
Monday to Saturday: 10:00 – 14:00
Email address: guias@nevadensis.com
NEVADENSIS sells maps of all the local walks in the area and also specializes in a multitude of outdoor activities in the Alpujarras and the Sierra Nevada Ski area. They offer guided tours for walking/trekking, horseback riding, four-wheel-drive excursions, rock-climbing, and mountain biking.
---
Village Information
| | |
| --- | --- |
| Region: | Las Alpujarras |
| Post Code: | 18413 |
| # of inhabitants: | ~ 350 |
| Inhabitants: | Pampanurrios |
| Distance to Granada: | 68 km |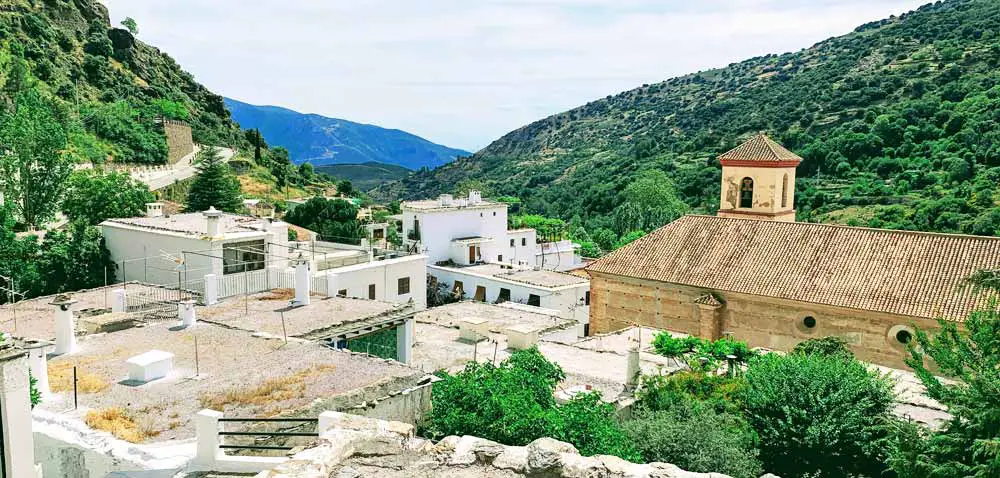 ** The Pampaneira Church (Iglesia de Santa Cruz) and town from above.
Other Important Information About Pampaneira
1. Pampaneira has been Chosen as One of the "Prettiest Villages in Spain"!
Pampaneira, located in the Granada province, has been chosen by the
Association of The Most Beautiful Villages in Spain
as one of the most beautiful villages, the other being its neighbor to the north,
Capileira
.
The other "most beautiful villages" nearby in Andalucia are Frigiliana (Málaga Province), Vejer de la Frontera, Grazalema, Zahara de la Sierra, and Setenil de las Bodegas (Cádiz Province).
---
2. Pampaneira Fiestas
The Autumn Fair
(Feria de Artesanía, Turismo y Agricultura Ecológica) - On October 12th, Pampaneira holds a giant fair, the biggest in the area, where you will find a wonderful assortment of locally made Alupjarra products, including textiles (colorful rugs and blankets), crafts, soaps and candles, jellies and jams, jars of honey, Moorish pastries and more...
The Chestnut Festival (Fiesta de la Mauraca) - On November 1st Pampaneira holds its famous chestnut festival (which also takes place in neighboring villages). It is celebrated by roasting chestnuts over an open fire, dancing, and singing traditional Alupjarra songs. The roasted chestnuts are later enjoyed with a warm anise-flavored liquor.
---
3. When to Visit Pampaneira
Pampaneira can get quite chilly in the winter being so high up in the mountains. So, the best time to take advantage of the great outdoors is spring and fall. The months of May and June are ideal for hiking as the entire gorge is in bloom with bright yellow scotch-broom and red poppies.
During May and October, you are most likely to experience good weather with pleasant average temperatures that fall between 20 degrees Celsius (68°F) and 25 degrees Celsius (77°F).
The hottest season is in June, July, August, and September.
Pampaneira has dry periods in June, July, August, and September.
The warmest month is July with an average maximum temperature of 33°C (91°F).
The coldest month is January with an average maximum temperature of 12°C (53°F).
November is the wettest month.
July is the driest month.
---
4. How to Arrive
Pampaneira is located just 68 kilometers south of the city of Granada and the Granada airport.
From Granada - Driving from Granada and south on the main N-323 highway towards the coast, look for the signs indicating "Las Alpujarras" and "Lanjarón" as you pass over the mountains. Exit the highway and head towards the left (east). Roads will be clearly marked. After passing the town of Lanjarón and just before entering Órgiva, look for the sign indicating directions to Pampaneira, Capileira, and Bubión. Take a left and follow the road straight up into the mountains.

You will love the views on the way up, provided you are not bothered by heights. From this turn, it should take about 20 to 30 minutes to reach Pampaneira. Although Pampaneira is not far, the road is winding and you can't drive fast. Pampaneira is the first town you will come to in the Poqueira Gorge.

From Malaga - take the A-7 motorway (or the older, slower and more scenic N-340 highway that runs parallel to the A-7) east towards Almuñécar, Motril, and Almería. In about 20 minutes after passing Almuñécar and when you reach Salobreña, take highway N-323 towards Granada. Pampaneira is located only 58 kilometers from Salobreña. As you climb the mountains and pass a dam and a lake on your left, look for signs indicating "Las Alpujarras" and "Lanjarón". Exit the highway and head towards the right (east). From here follow the directions noted above from Granada.
From Almería - take the A-7 and/or N-340 highway west towards Málaga and Almuñécar. When you reach Salobreña (before Almuñécar), take highway N-323 towards Granada. Follow the directions noted above.
---
---
5. Parking
Both at the entrance and exit of Pampaneira, you will find free parking lots that are within walking distance of the town square.
6. Pampaneira - A Brief History...
Although Pampaneira's origins date back to the Roman period, its unique architecture and customs were greatly influenced by its later inhabitants, the Moors.
It is thought that the name "Pampaneira" comes from either the Latin word "pampinus", meaning "branch" (referring to its fertile land) or "Pampinarius", meaning "producer of pámpanos" which translates to "land of vines". In either case, Pampaneira was clearly named for the lushness and abundance of its surrounding countryside.
The "-eira" ending, which you also see in the name "Capileira", was later added by the Arabs.
The Timeline...
It all started when Queen Isabella and King Ferdinand defeated the Moors in Granada. The once-great kingdom fell and the Moorish King and his people fled to the Alpujarras and settled in the village of Pampaneira.
The Moorish people lived in the Alpujarras for 76 years in peace.
In 1568, a local landowner decided to rebel against the new Christian King, Felipe II. The Moors revolted but eventually turned to infighting and were finally expelled from Spain in 1609 by Juan de Austria.
After the Moor's final exodus, the towns were repopulated with a Christian population coming from Leon and Galicia. Only two Moorish families were allowed to stay in each of the villages to show newcomers how to work the land.
Today, Pampaneira's inhabitants are ancestors of the Christian repopulation in the sixteenth century.
---
The Villages of the Alpujarras
Explore the Province of Granada