The Village of Bubión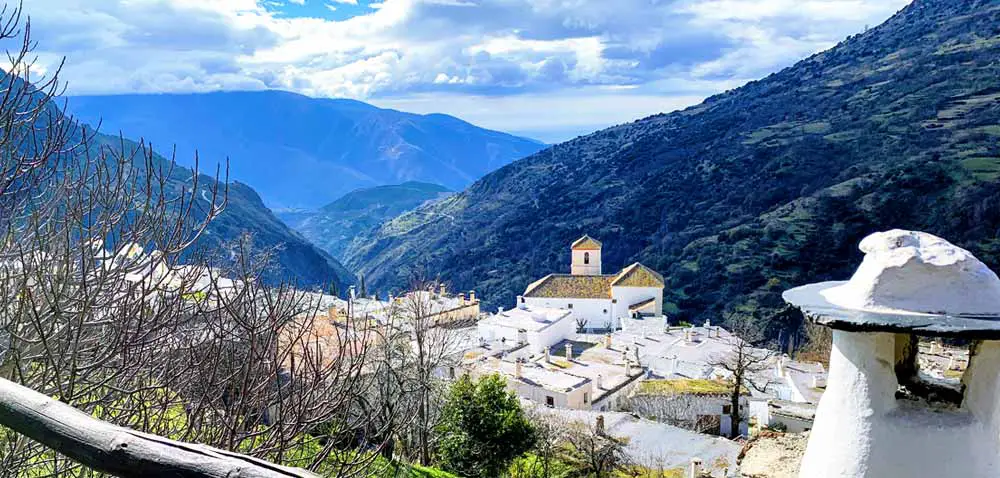 💡
Affiliate Disclosure:
  Please be aware that some links on this site are affiliate links, which means that we might receive a small commission ☕ if you click a link and make a booking. This helps us to keep the site running and will NOT affect the price you pay in any way... ❤️ 🙏 🙏 ➜
How does this work?
---
The Mountain Village of Bubión in the Beautiful Alpujarras...
Perched high in the Alpujarras along the edge of a steep ravine lies the small mountain village of Bubión. It enjoys stunning views in all directions and is known for its unique stone architecture.
Unlike its two neighbors, Capileira and Pampaneira, it is not on the "Most Beautiful Villages of Spain" list, although it should be! Bubión shares all the same beautiful characteristics as it's two larger neighbors to the north and south, but in a slightly smaller package.
It's small winding streets and houses are perfectly adapted to the steepness of the terrain and its homes are built in the typical Berber style with their flat slate roofs, arched doorways, and smoking chimney pots.
➜ Bubión has been declared an 'Asset of Cultural Interest' (Conjunto Histórico-Artístico) by the government.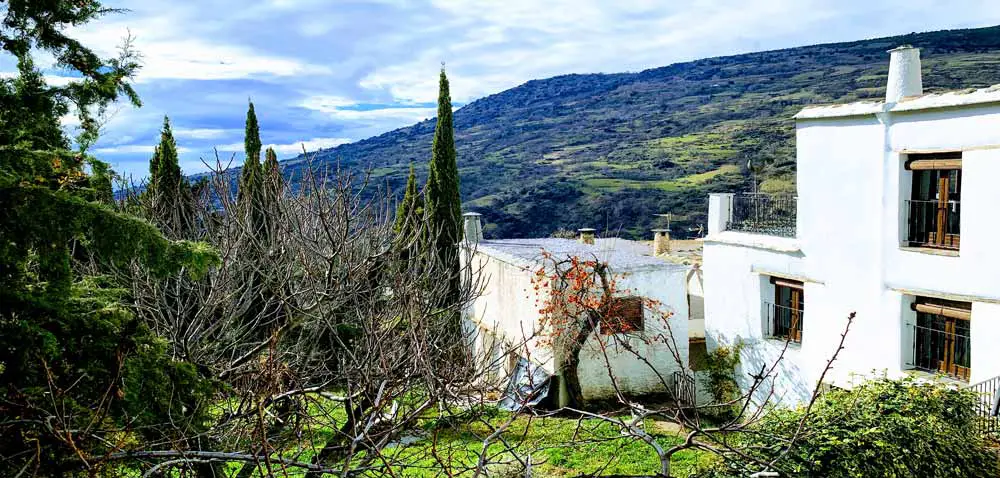 ** A typical Alpujarra country house in Bubión
---
Bubión - Everything You Need to Know!
---
Where is Bubión?
Bubión sits in the southeastern corner of the
Province of Granada
, high in the Sierra Nevada Mountains. It is sandwiched between the two famous villages of Capileira and Pampaneira in the Poqueira Gorge and is just 72 kilometers from the capital city of Granada.
To the north, Veleta and Mulhacén, Spain's two highest peaks, soar dramatically to the sky and are usually snowcapped. To the south, the Mediterranean Sea quietly shimmers beyond the coastal mountain ranges of Lújar and Contraviersa. In the evening light of autumn and winter, even Morocco's Rif Mountains are sometimes visible from Bubión.
Bubión is just 50 km from the Mediterranean coast, specifically the Costa Tropical and the towns of Almuñécar, Motril, and Salobreña.
Bubión's Place in the Poqueira Gorge...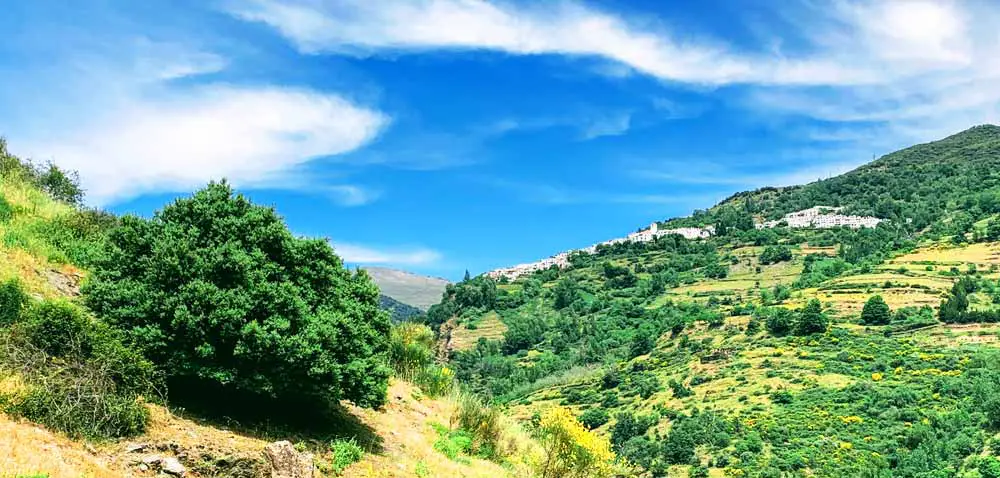 ** Views of Capileira (top) and Bubión in the Poqueira Gorge
Bubión, at 1,300 meters (4,430 ft) above sea level, is the second-highest village in the Poqueira Gorge, just after Capileira. The gorge is located in the heart of the Sierra Nevada National Park with steep ravines showcasing the pretty white villages perched on top. Below runs the winding Poqueira River, waterfalls, bridges, and wonderful hiking trails that people come from all over Europe to enjoy.
In recent years rural and eco-tourism have developed in the Alpujarras and is now the mainstay of the economy.
All around is unspoiled nature. Lush terraces are dotted with chestnut, walnut, oak, cherry, and mulberry trees. Mountain life in Bubión is as it was lived in the past, with locals quietly tending their "huertos" (vegetable gardens), leading flocks of goats and sheep to pasture, and returning home from work in the fields with their mules.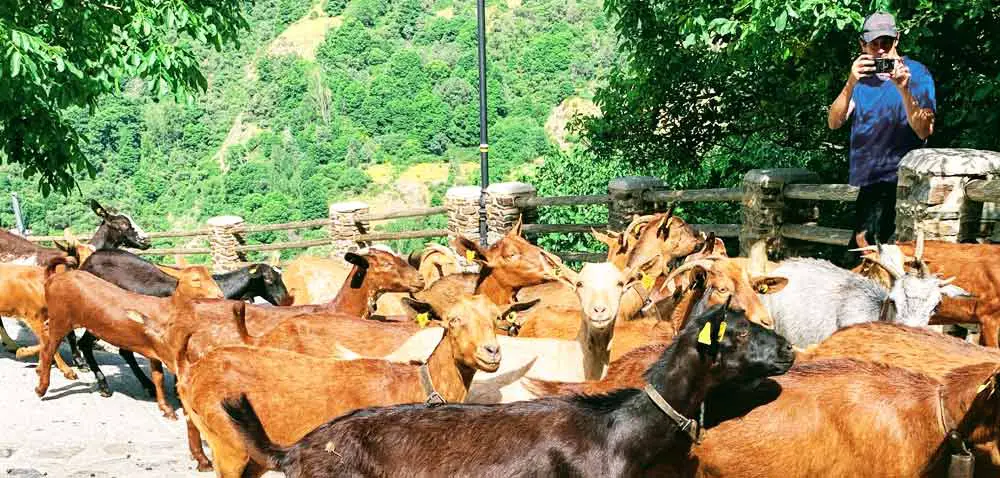 ** Goats heading to pasture near Bubión - Poqueira Gorge
---
Where to Stay in Bubión
If you're staying in the Poqueira Gorge, there are more hotel options in the two larger towns...
Bubión has one nice hotel, the Villa Turistica de Bubión, which was built by the Andalusian Government to promote tourism. There is also a small hostel, Las Terrazas.
One last option, is to rent a small cottage in town or in the countryside and experience life as a local!
TOP BUBION HOTELS - VILLA TURISTICA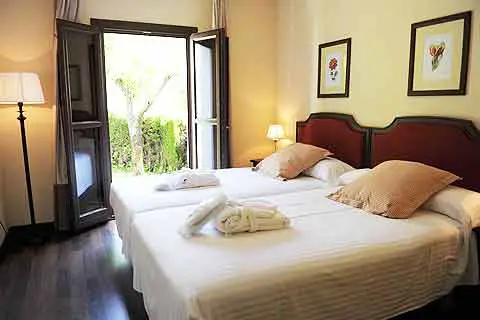 TOP BUBION HOTELS - LAS TERRAZAS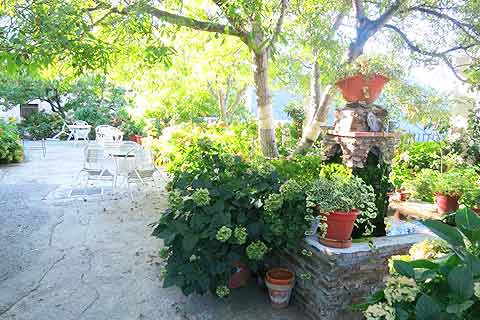 Rent a Pretty Cottage or Berber Home
TOP BUBION HOTELS - RENT A COTTAGE!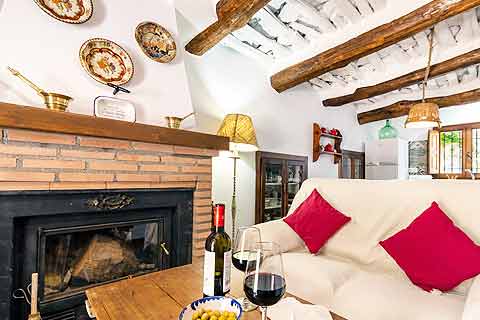 Trusted Booking.com Partner
---
What to Do in Bubión?
Bubión is a tiny village so a visit will take about an hour. We highly recommend
the walks
from either Pampaneira (uphill) or Capileira (downhill) as a nice way to get into the town and then wander slowly through its tiny streets.
1. Bubión's Historic Houses and Streets
Because of its Moorish history, the architecture of Bubión is similar to that of the Berbers in the Atlas mountains of North Africa. It's characterized by mossy flat roofs and tall chimneys capped by broad slate stones that look like hats. The whitewashed houses spill down the steep mountainside, connected by quaint walkways and winding cobble-stoned streets and alleys.
Bubión stands out from the other Poqueira Gorge villages in that it uses more stone in its architecture and seems slightly more rustic.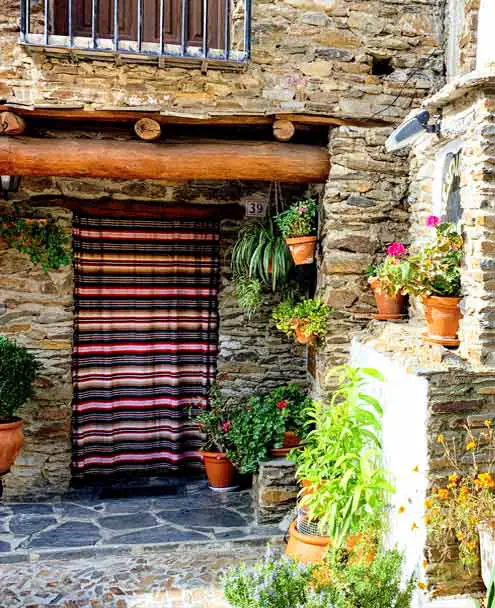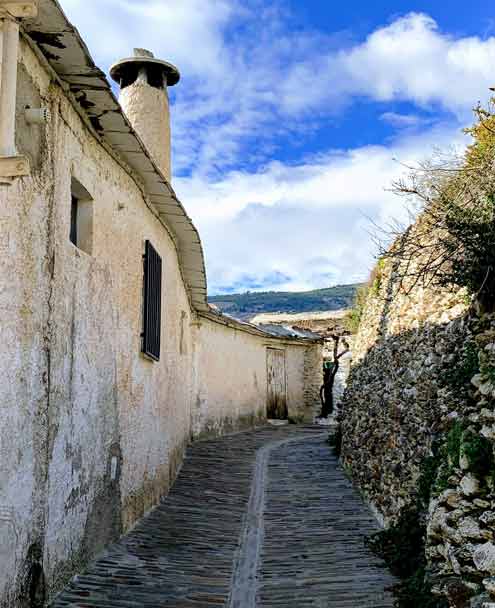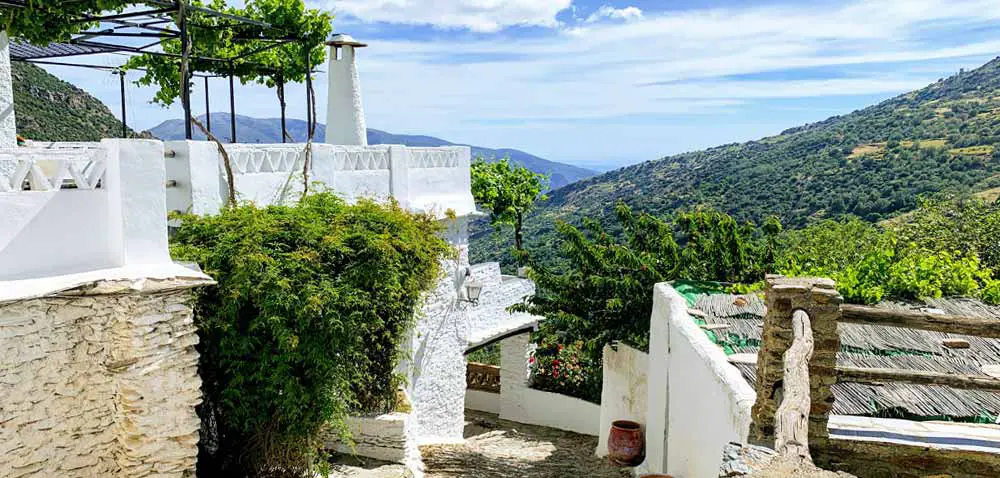 ** Picturesque corners in the village of Bubión with the characteristic stone-masonry, flat roofs, and chimneys
---
2. Bubión's Top Sites - What not to Miss...
The top places to visit while you're in the village of Bubión are:
The Alpujarreña House-Museum

- Located in the village square, this small museum houses interesting artifacts from times gone by. It's located in an original Berber-style, two-story Alpujarran home.

The Bubión Agricultural Museum

- Located next to the Eras de Bubión, you will find this quaint little museum that showcases items used for agricultural purposes over the ages.

Iglesia de la Virgen del Rosario

- This pretty parochial church, built in the 16th Century, was built on the site of Bubión's original mosque. It is constructed in the Mudéjar style and its tower was used as a defensive structure by Abén Humeya's supporters during the Moorish revolts.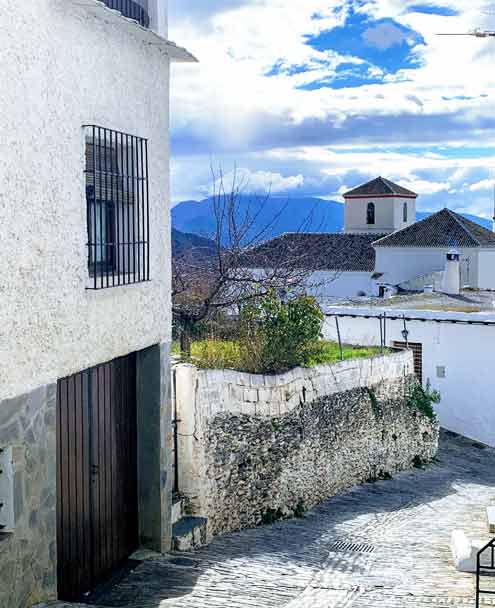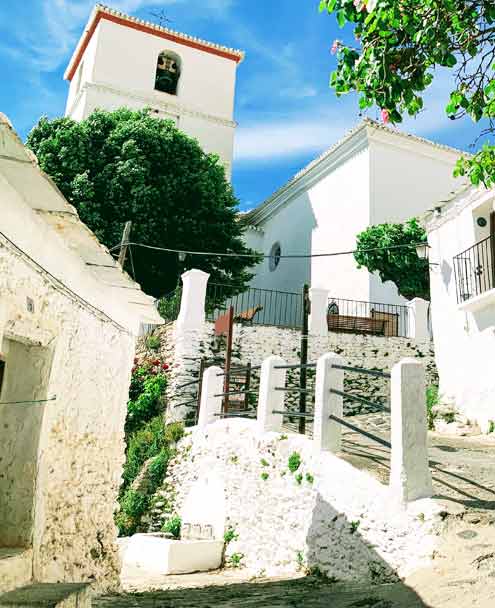 ** The Church of Virgen del Rosario in Bubión and the Hondera Fountain (below the church tower)
Bubión's Main Plaza

- In the middle of town is Bubión's main plaza with a pretty fountain at its center. Here you will find the Ayuntamiento (Town Hall) and the Alpujarreña House-Museum. This is also where you will find the start to the Bubión ➜ Capileira walk.

Hondera Fountain & Laundry

- At the bottom of town as you come in from the Pampaneira ➜ Bubión section of the villages walk, you will find a picturesque little corner with an old fountain and the town's ancient communal laundry house.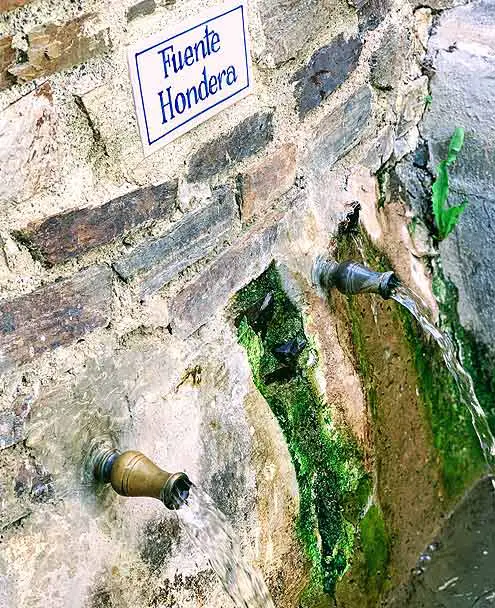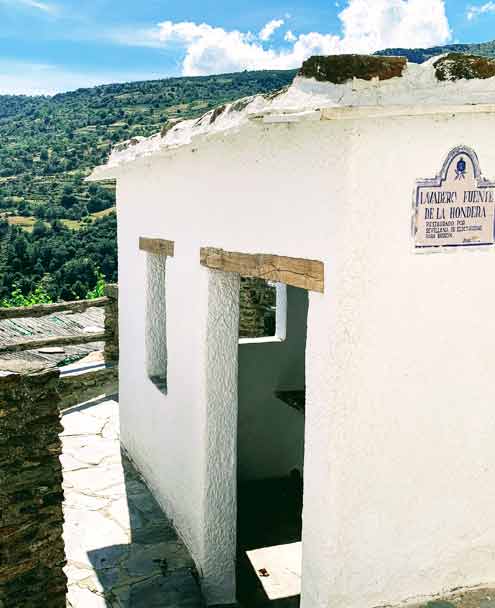 ** The Hondera fountain and the historic "lavandero" or laundry house in Bubión
Bubión Craft Shops

- At the top of town, near the main road that connects the villages, you will find several Alpujarran shops selling traditional tapestries, pottery, blankets, carpets and more...

The Loom Workshop

- Located in a restored Berber-style home, you will find this set of two looms that have been used for hundreds of years in the making of the typical Alpujarran carpets, and which are still used today. These are only one of the few traditional looms that have been preserved in Granada.
---
3. Thrilling Tours to Bubión
Not sure about getting to Bubión on your own? No problem! You also have the option of joining a
Day Tour to the Alpujarras
that leaves from
Granada
.
There are also numerous outdoor activities and tours you can join when you get here... if you're feeling adventurous. Rafting, hiking, cycling, or even a Four-Wheel Drive Safari are among your choices... See them all here...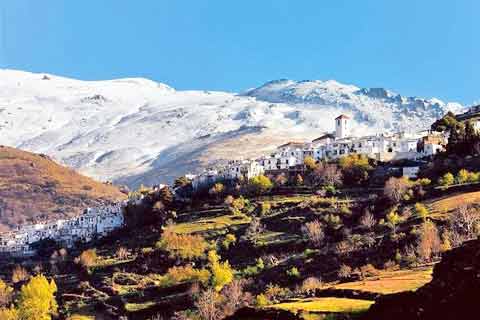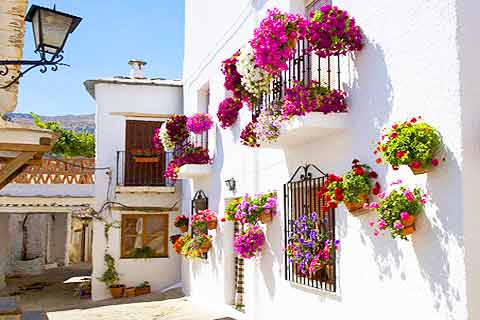 ---
---
The Best Place to Eat in Bubión!
Bubión, like other typical Alpujarra towns, is famous for its hams and cured meats. They also serve other Alpujarreña cuisine such as almond soup, baked 'choto' (goat), and of course, the 'Plato Alpujarreño' which consists of 'Patatas a lo Pobre' (Poor Man's Potatoes), fried eggs, Spanish ham, chorizo, and blood sausage.
Bubións's top restaurant, right on the main road is...
RECOMMENDED RESTAURANTS - BUBION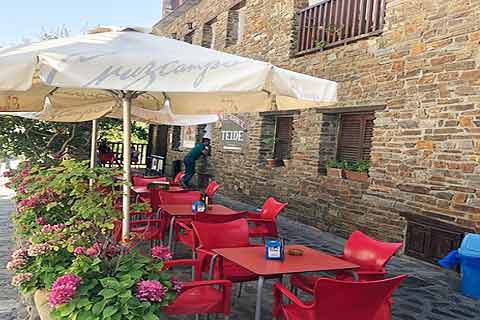 Hiking in Bubión! - The Poqueira Gorge Walk
Popular long-distance footpaths run through Bubión which is part of a network of beautiful walking trails that link the villages of Capileira, Bubión, and Pampaneira with the rest of the Poqueira Gorge. From Capileira they ascend into the Sierra Nevada mountains, providing an approach to the towering mountain of Mulhacén.
The most popular hike in the area is the Atalaya Trail that makes a complete circuit around the gorge and through each of the three villages. Two shorter hikes are also available from Bubión to Capileira and Pampaneira.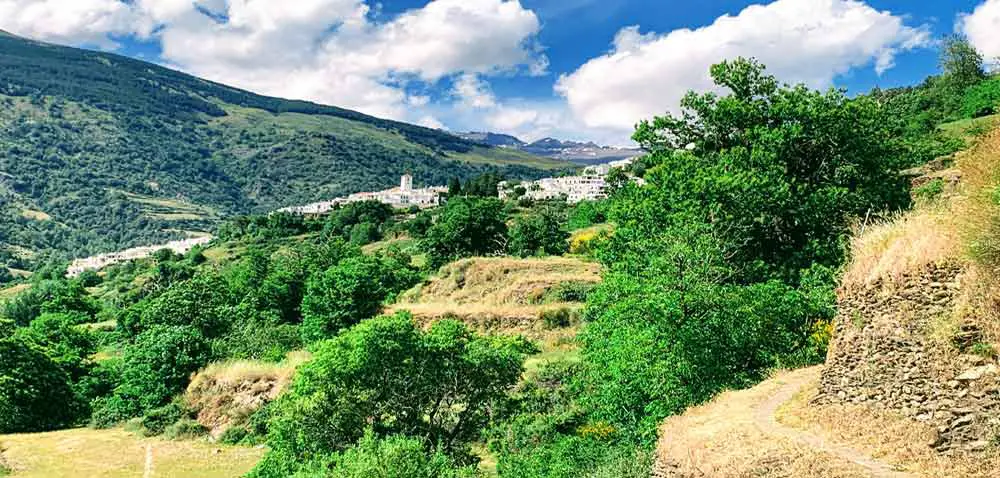 ** The trail leading from Bubión to the village of Capileira in the distance.
The Atalaya Trail

- 3 hours, 45 min. - For more information on this trail read our guide on the Atalaya Trail full-day hike.

Bubión to Capileira

- If you are looking for a short hike, you can take the Atalaya trail that goes out of Bubión and heads north to Capileira. This hike takes about 45-minutes, but a warning... it is ALL uphill.

Bubión to Pampaneira

- An easier path connects the two villages of Bubión and Pampaneira. And it's all downhill! This is a quick hike and will only take you about 30 minutes. It's a great way to see the winding streets of the beautiful villages as well as the lushness of the Poqueira countryside.
---
Biking in Bubión - Where to Rent
Alpujarra Bikes
Location - Calle de La Carretera 51 Bajo, 18412, Bubión
Tel: +34 858 85 70 34
Website: www.alpujarrabikes.com
Opening Hours:
Fri - Sun: 10:00 AM - 6:00 PM
Email address: info@alpujarrabikes.com
Alpujarra Bikes, established in 2016, is a bike shop in the Alpujarras on the main road into the high mountains of Mulhacen and Veleta, including the highest cyclable pass in Europe at 3200m. They have bicycles to rent (road, xc, enduro, electric, children's) and a full workshop for repairs and services. They also stock a wide variety of spares, sports nutrition, and clothing.
---
Tourist Office
BUBION TOWN HALL - AYUNTAMIENTO
Address - Plaza Doctor Perez Ramon 1, 18412 – Bubión (Granada)
Tel: (+34) 958 76 30 32
Website: www.bubion.es
Opening Hours:
Monday to Saturday: 10:00 – 14:00
Email address: info@bubion.es
---
Village Information
| | |
| --- | --- |
| Region: | Las Alpujarras |
| Post Code: | 18412 |
| # of inhabitants: | ~ 355 |
| Inhabitants: | Bubioneros |
| Distance to Granada: | 78 km |
---
Other Important Information About Bubión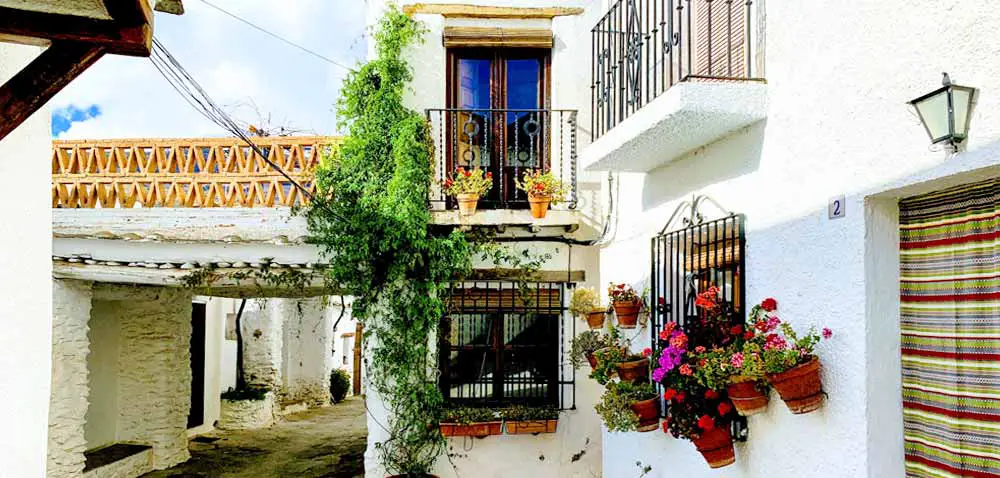 ** One of the tinaos within the winding streets of Bubión and colorful flowerpots.
---
1. Bubión has NOT been Chosen as One of the "Prettiest Villages in Spain"!
Bubión has NOT been chosen by the
Association of The Most Beautiful Villages in Spain
. Why are we telling you this? Because both it's neighbors,
Capileira
(1 km north) and
Pampaneira
(1 km south), HAVE been chosen. This makes Bubión a very interesting place to visit.
Although it's didn't make this most prestigious list, which we think it really deserved, Bubión has been declared as a 'Conjunto Histórico-Artístico', or site of 'artistic and historical importance'.
2. Bubión Fiestas
Bubión's two main fiesta dates are: the weekend closest to the 20th of January and the second to last weekend of every August.
It also shares in these festivities held in the neighboring villages:
The Autumn Fair (Feria de Artesanía, Turismo y Agricultura Ecológica) - October 12th - A giant fair, the biggest in the area, where you will find a wonderful assortment of locally made Alupjarra products, including textiles (colorful rugs and blankets), crafts, soaps and candles, jellies and jams, jars of honey, Moorish pastries and more...
The Chestnut Festival (Fiesta de la Mauraca) - November 1st - The famous chestnut festival. It is celebrated by roasting chestnuts over an open fire and dancing and singing to traditional Alupjarra songs. The roasted chestnuts are later enjoyed with a warm anise-flavored liquor.
---
3. When to Visit Bubión
At 1,350 meters above sea level, Bubión enjoys clear air with low humidity, mild summers, and cold winters.
During May and October, you are most likely to experience good weather with pleasant average temperatures that fall between 20 degrees Celsius (68°F) and 25 degrees Celsius (77°F).
The hottest season is in June, July, August, and September.
Bubión has dry periods in June, July, August, and September.
The warmest month is July with an average maximum temperature of 33°C (91°F).
The coldest month is January with an average maximum temperature of 12°C (53°F).
November is the wettest month.
July is the driest month.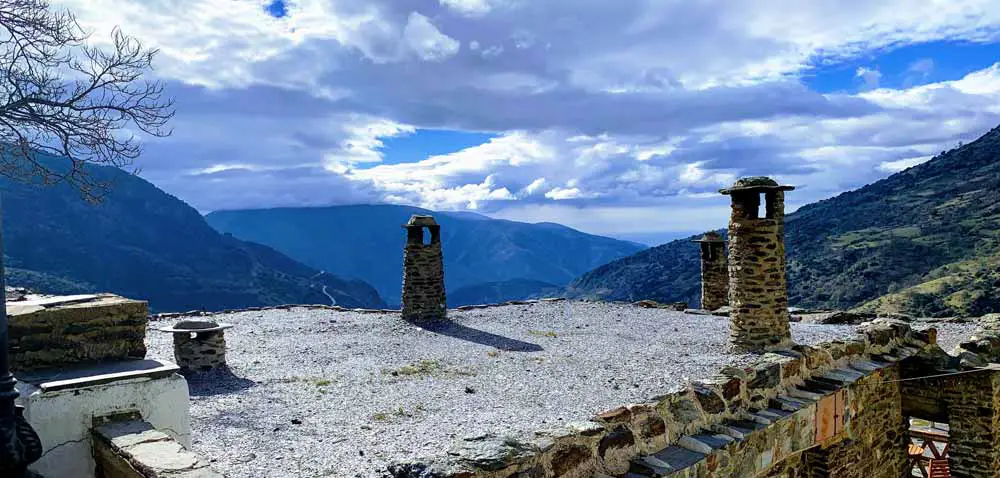 ** One of Bubión's flat roofs with a spectacular view.
---
4. How to Arrive
Bubión is located just 72 kilometers south of the city of Granada and the Granada airport.
From Granada - Driving from Granada and south on the main N-323 highway towards the coast, look for the signs indicating "Las Alpujarras" and "Lanjarón" as you pass over the mountains. Exit the highway and head towards the left (east). Roads will be clearly marked. After passing the town of Lanjarón and just before entering Órgiva, look for the sign indicating directions to Bubión, Capileira, and Pampaneira. Take a left and follow the road straight up into the mountains.

From this turn, it should take about 20 to 30 minutes to reach Bubión. Although Bubión is not far, the road is winding and you can't drive fast. Bubión is the second town you will come to in the Poqueira Gorge.

From Malaga - take the A-7 motorway (or the older, slower and more scenic N-340 highway that runs parallel to the A-7) east towards Almuñécar, Motril, and Almería. In about 20 minutes after passing Almuñécar and when you reach Salobreña, take highway N-323 towards Granada. Bubión is located only 60 kilometers from Salobreña. As you climb the mountains and pass a dam and a lake on your left, look for signs indicating "Las Alpujarras" and "Lanjarón". Exit the highway and head towards the right (east). From here follow the directions noted above from Granada.
From Almería - take the A-7 and/or N-340 highway west towards Málaga and Almuñécar. When you reach Salobreña (before Almuñécar), take highway N-323 towards Granada. Follow the directions noted above.
---
---
5. Bubión - A Brief History...
Bubión's name comes from the Latin
"land of oxen"
. It has 350 inhabitants today.
The village was founded in Roman times for mining purposes. After the invasion by the Moors in the 7th Century, it was ruled under the authority of Ugíjar.
In the 16th century, the village supported Abén Humeya in his revolt against the oppression of the Morisco population, a group that had converted from Islam and Judaism to Christianity to avoid expulsion to North Africa.
The Villages of the Alpujarras
Explore the Province of Granada