Pitres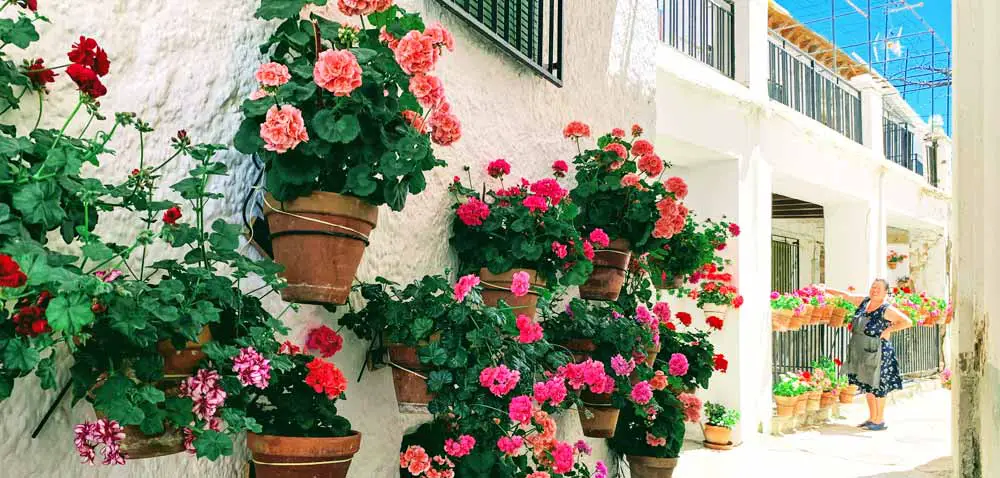 💡
Affiliate Disclosure:
  Please be aware that some links on this site are affiliate links, which means that we might receive a small commission ☕ if you click a link and make a booking. This helps us to keep the site running and will NOT affect the price you pay in any way... ❤️ 🙏 🙏 ➜
How does this work?
---
Explore the Tiny Flower-Filled Village of Pitres
Located in the upper mountainous reaches of the Alpujarra, just minutes from the Poqueira Gorge, is the small village of Pitres. It's not as well-known as some of the neighboring towns, like
Capileira
and
Pampaneira
, but if you're in the area it's a nice place to stop.
What should you expect? The streets of Pitres are small and pretty and its houses are adorned with brightly colored Geraniums and Bougainvillea.
The town square, dating to Roman times, is a wide-open space surrounded by towering Sycamore trees with a fountain at its center. The Iglesia Parroquial de San Roque stands proudly overlooking the large plaza.
But, the most interesting thing about Pitres, is its many legends! Its people are known as the 'Barbarians'... keep reading to find out why!
---
Check out the other Alpujarra villages:
Lanjarón
-
Órgiva
-
Pampaneira
-
Bubión
-
Capileira
-
Trevélez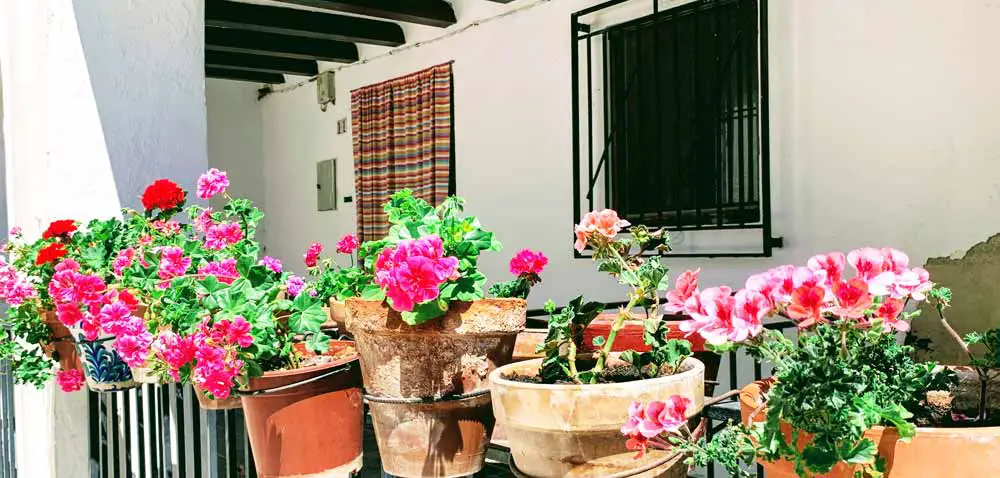 ** The pretty flowers in the village of Pitres
---
---
Where is Pitres?
Pitres, with an elevation of 1,295 m, is located in the
Sierra Nevada National Park
, in the southern half of the
Granada Province
. It is in the central Alpujarra region near the towns of Capileira, Pórtugos, Mecina, Fondales, Mecinilla, and Atalbéitar... and is just 74 kilometers from the capital city of Granada.
Pitres is also just 53 km from the Mediterranean coast, specifically the Costa Tropical and the highly visited towns of Almuñécar, Salobreña, and Motril... Motril being its 'Sister City'.
---
Pitres, Capital of La Tahá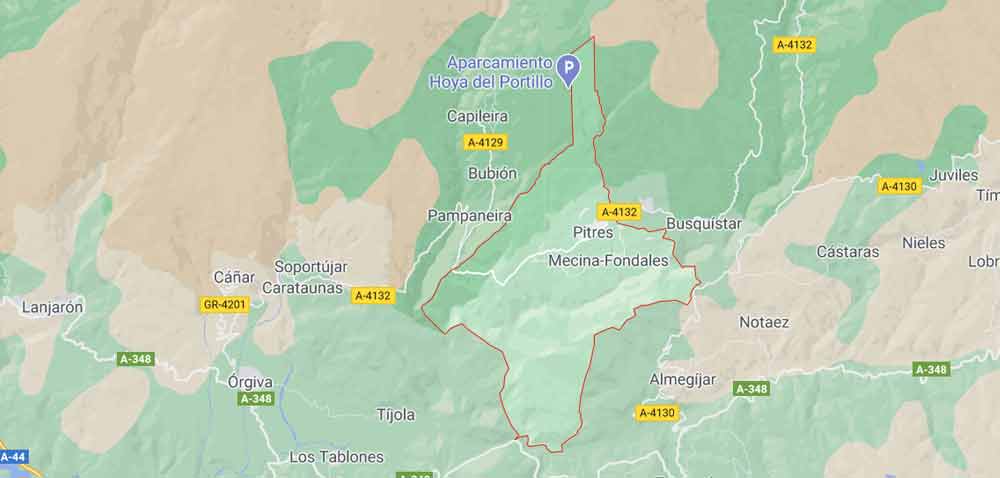 ** Pitres in the Municipality of La Tahá
Pitres is a tiny village and historically has always been independent, but in 1975 it became the thriving capital city of the entire La Tahá region.
The municipality of 'La Tahá' includes 3 even smaller hamlets... Mecina, Fondales, and Ferreirola with Pitres as the capital and seat of the town hall.
The La Tahá region is a very remote and rustic part of the Alpujarra but has been blessed with beautiful vistas, quaint villages, and rural walks.
Pitres has all the necessities. There is a supermarket, health food shop, butchers, bakers, hardware store, bank (cash machine), and a chemist. On Fridays, the town holds its weekly market that attracts people from the area.
Hotels Near Pitres
TOP RURAL HOTELS - HOTEL FUENTE CAPILERILLA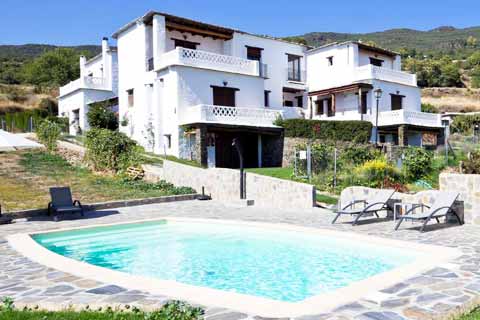 TOP RURAL HOTELS - FINCA LOS LLANOS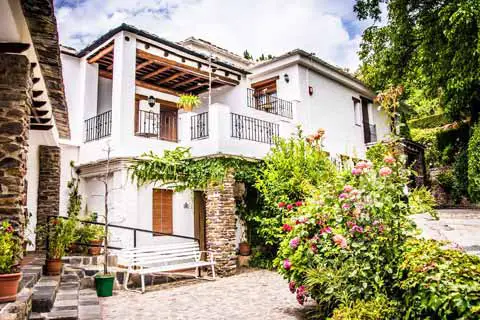 Holiday Homes & Cottages Near Pitres
TOP RURAL COTTAGES - CORTIJO LA LOMA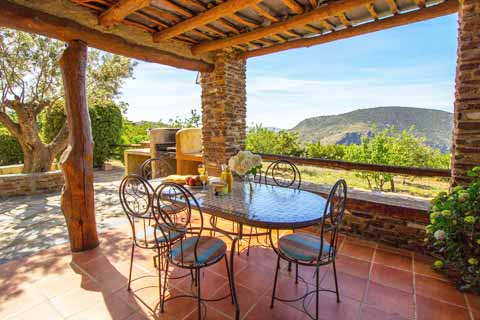 TOP RURAL APARTMENTS - LA OVEJA VERDE DE LA ALPUJARRA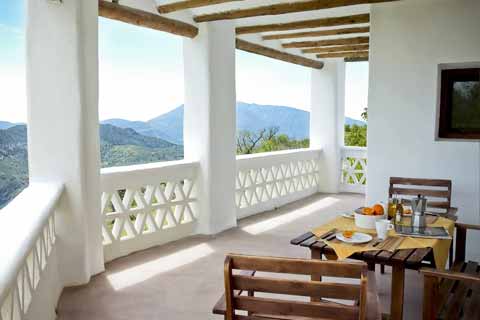 TOP RURAL COTTAGES - COTTAGE WITH TERRACE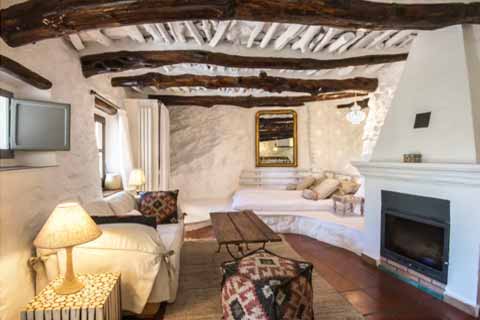 ---
What to Do in Pitres?
A visit to the Alpujarra village of Pitres will take you about 30 minutes. Take a quick walk through its pretty streets and main plaza and then head over to
"Chocolates Sierra Nevada"
for something sweet.
On your way out of town, make a quick stop at the Ermita de la Virgen de las Angustias and the "Fuente Agria". There you will find a natural spring so rich in iron deposits that the waterfall ("El Chorrerón") and river are a brilliant orange color...
---
1. The Historic District
Pitres is not as popular with the tourists as some of its nearby neighbors and doesn't have as many boutiques or restaurants, but it still shares the same characteristics of Alpujarra architecture and beauty.
You will once again notice the covered alleyways with wooden beams (tinaos), flat roofs, and chimney pots. You may also notice that Pitres has an abundance of vibrant and fragrant flowers... lining the walls, patios, and windowsills.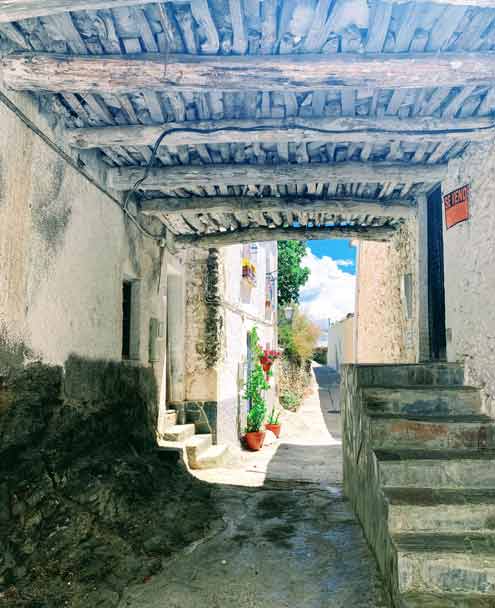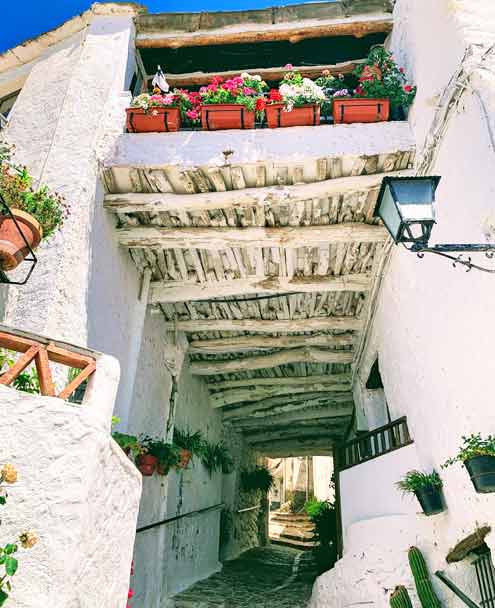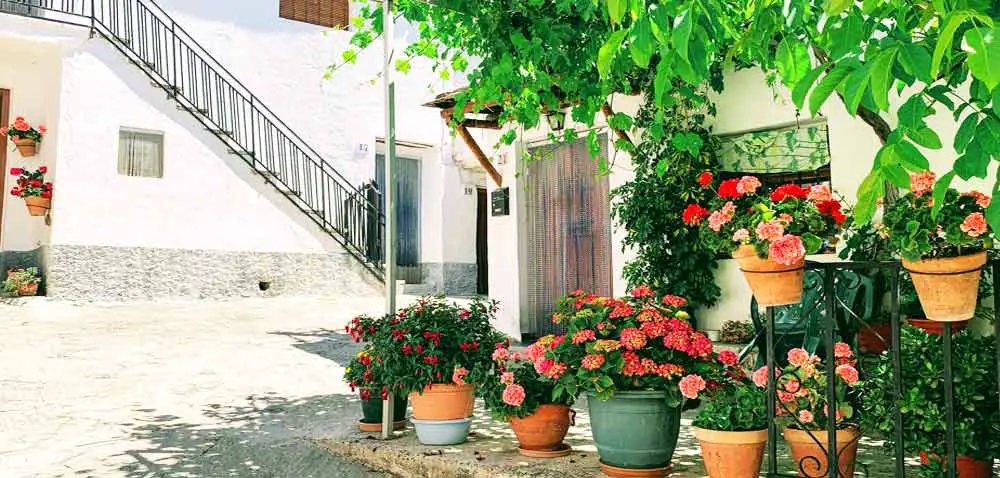 ** (1-2) Traditional 'tinao' and tunnel. (3) Pretty flower-filled corners in Pitres.
---
2. Pitres' Top Sites - What not to Miss...
The top places to see while you're in the village of Pitres are:
The Plaza & Iglesia Parroquial de San Roque

- The main Pitres plaza is the largest you will see in the Alpujarras, it has a fountain at its center and is surrounded by towering Sycamore trees.

The Iglesia Parroquial de San Roque, built during the 16th century and standing on the northern side of the plaza, was completely rebuilt in the 1940's due to damage during the Spanish Civil War.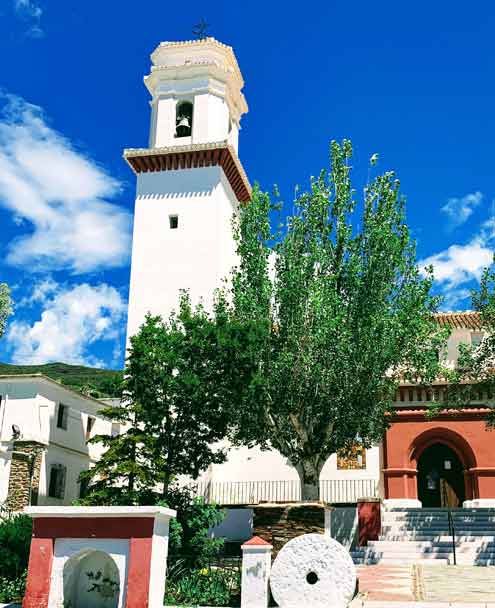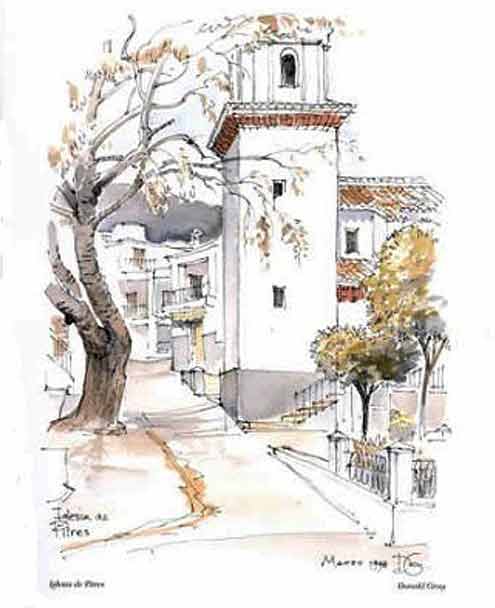 ** The Iglesia Parroquial de San Roque in Pitres.
Jardín de la Alpujarra

- An enchanting botanical garden located in the high Alpujarras of Granada that combines a range of bright flowering plants against a backdrop of exotic trees and shrubs. Enjoy homemade drinks and fantastic mountain views! 5 minutes from Pitres (2.1 km)

Jardín de la Alpujarra

Address: Cortijo Opazo, Ctra 0.2 km Atalbeitar, 18415 Pórtugos
Telephone: +34 646 43 06 56
Email: info@jardinalpujarra.com

Admission:
General Admission: Entry € 3.50 - All income goes to the garden association.

Chocolates Sierra Nevada

- Dedicated to the creation of Artisan Chocolates and Fig Bonbons, this chocolate shop in Pitres uses only raw materials grown locally. www.chocolatesierranevada.com - Try their "Figs in Brandy"!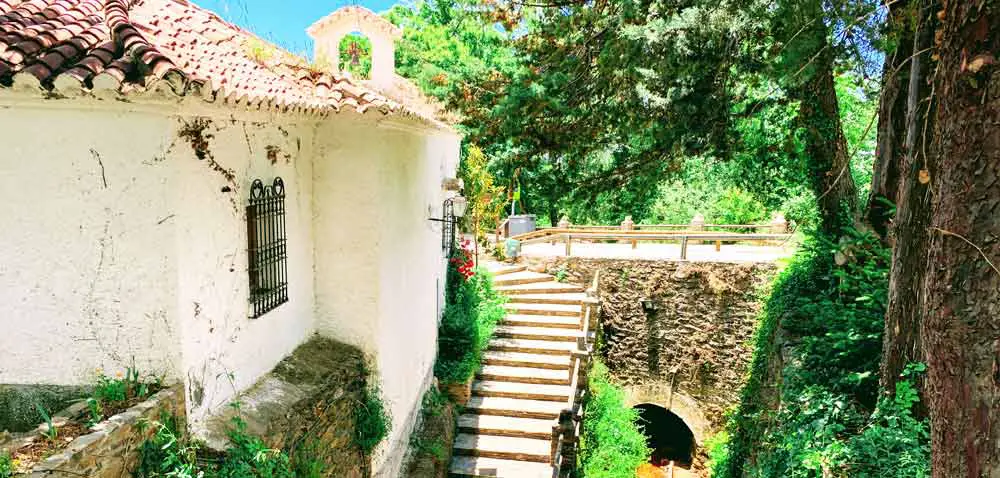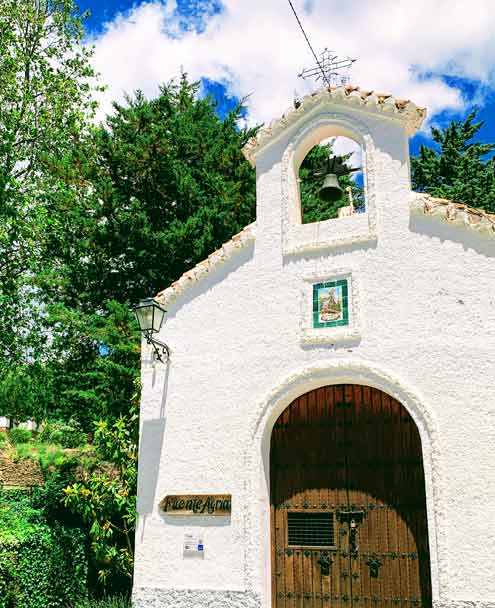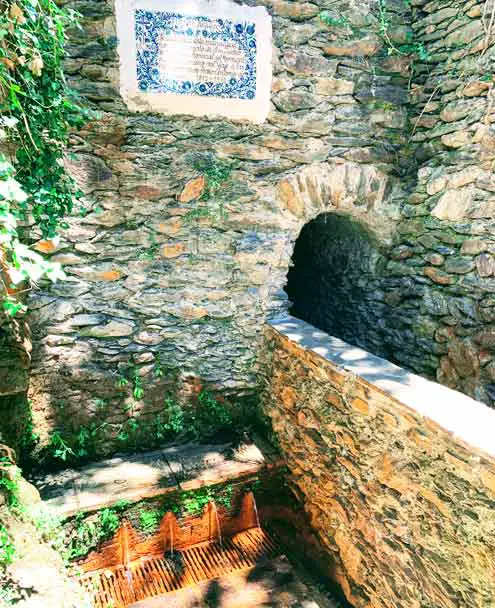 ** The Ermita de la Virgen de las Angustias and the Fountain of Iron between Pitres and Pórtugos.
Ermita de la Virgen de las Angustias

- Located just above the "Iron Springs" on the road out of Pitres is this charming little Ermita. It was built in the 18th century and later reconstructed in the 1970's.

Fuente Agria

- Where the waters run orange... A natural iron spring that flows just under the Ermita coloring the land and pipes around it. Its waters are thought to have medicinal qualities and are popular with the locals.

El Chorrerón & Las Eras

- Enclosed in a curious cave you will find the orange waterfall, El Chorrerón, created by the flowing waters of the Fuente Agria. It is located just across the street.

Also of note are the Eras, or ancient wheat threshing fields, next to the recreational area.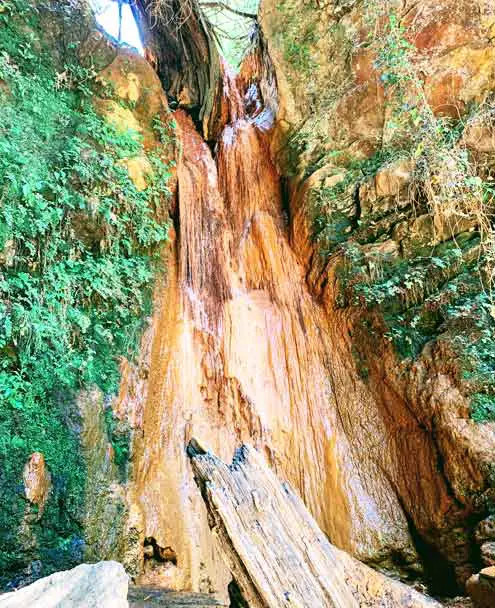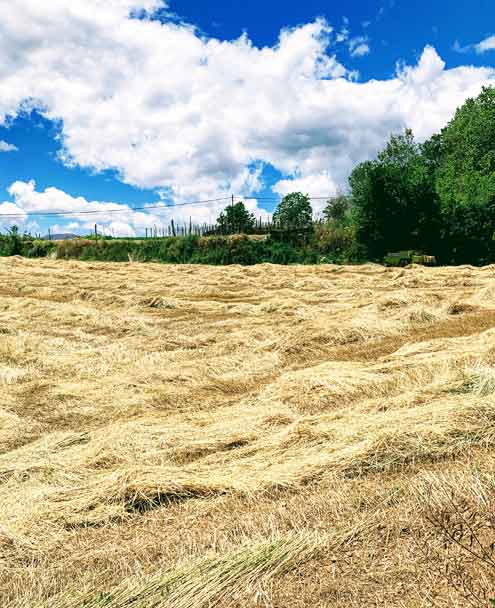 ** The Iron Waterfall, "El Chorrerón", and the Eras between Pitres and Pórtugos.
Salto de Paula

- A waterfall and ferruginous environment (containing iron oxides or rust / rust-colored) found along the Medieval Alpujarra Hiking Route.

This 3.5-hour route passes through the villages of La Tahá (Fondales, Busquístar, Atalbéitar, and Ferreirola) along the Bermejo river. Medieval Alpujarra Route - See more below...
The Legends of Pitres
And so, the story goes...
---
The Barbarians
During Roman times, nomadic tribes of Visigoths, also known as 'Barbarians', crossed into the Iberian Peninsula and conquered the Roman people. They lived and controlled Spain for centuries.
When the Muslims arrived in the sixth century AD, and after 7 years of fighting, they forced the 'Barbarians' out. Unbeknownst to the Muslim invaders, a small tribe of fewer than 100 Barbarians was able to hide out and live undetected in the surrounding forests and caves near Pitres.
It wasn't until the Muslims were finally conquered by the Christians during the 16th century that these last remaining Barbarians were discovered and thrown out as well.
Since that time, Pitres has been known as the "Land of Barbarian"!
---
The Port of Pitres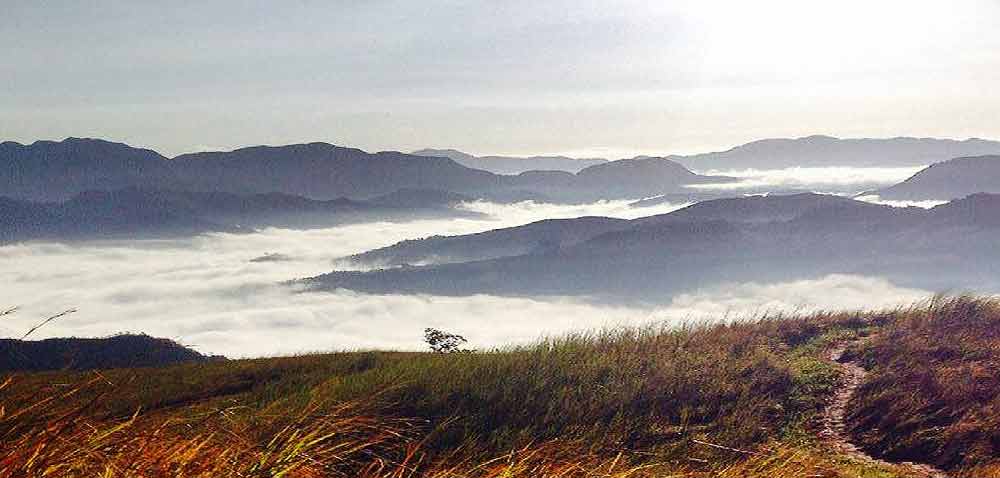 ** The Port of Pitres in a sea of clouds...
As thick, puffy clouds roll in around the village of Pitres one might confuse it for a glistening port city on the sea... but high in the Alpujarras is the last place you would think to find a seaport...
However, Pitres has been officially recognized by the government of Spain as "Puerto de Pitres"... And why you may ask?
In the year 1905, a man by the name of Natalio Rivas Santiago, a politician campaigning for la Alpujarra, arrived in Pitres to gather support for his campaign. In the town square he began a speech by saying:
Although this request was never meant to be a serious one, Pitres became an official seaport and was honored as such by its neighboring towns...
La Rábita, a coastal town, offered Pitres a small boat, which sat at the entrance of town for many years.
the Port of Motril offered Pitres an anchor and later was designated as its "Sister Port".
Two streets in Pitres were renamed to "Paseo Marítimo" and "Calle El Puerto".
And a holiday was created, during which the locals; "plant sardines on their terraces and water them so that they grow juicy and fat".
---
Where to Eat in Pitres!
Pitres' cuisine consists of typical Alpujarra dishes; cured hams and cheeses, sausages, migas (a dish with breadcrumbs, garlic, and olive oil), potatoes a lo pobre, and locally made fortified wines.
RECOMMENDED RESTAURANTS - PITRES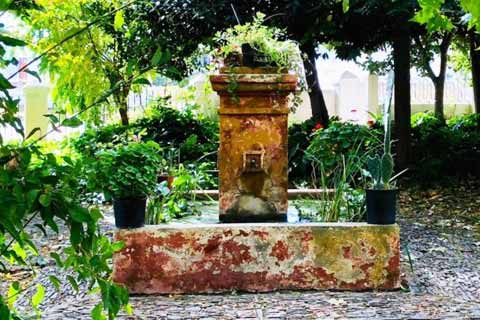 ---
Hiking La Tahá & Pitres
The la Tahá region is made up of several small villages and hamlets that are connected by rustic but very well-maintained mountain trails.
On these four (4) hikes you will explore the la Tahá villages (Fondales, Busquístar, Atalbéitar, and Ferreirola), the Bermejo river, waterfalls, irrigation canals, and the neighboring majestic Poqueira Gorge and its villages (Pampaneira, Capileira, and Bubión).
The Medieval Walk / Pitres - La Tahá

- Probably the most well-known and popular of the Pitres trails, this circular hike will take you about 3 hours. You will pass through the la Taja villages and experience the beauty of the Salto de Paula, a waterfall and ferruginous environment near the Bermejo River.

Find more detailed information here: Pitres - Medieval Route.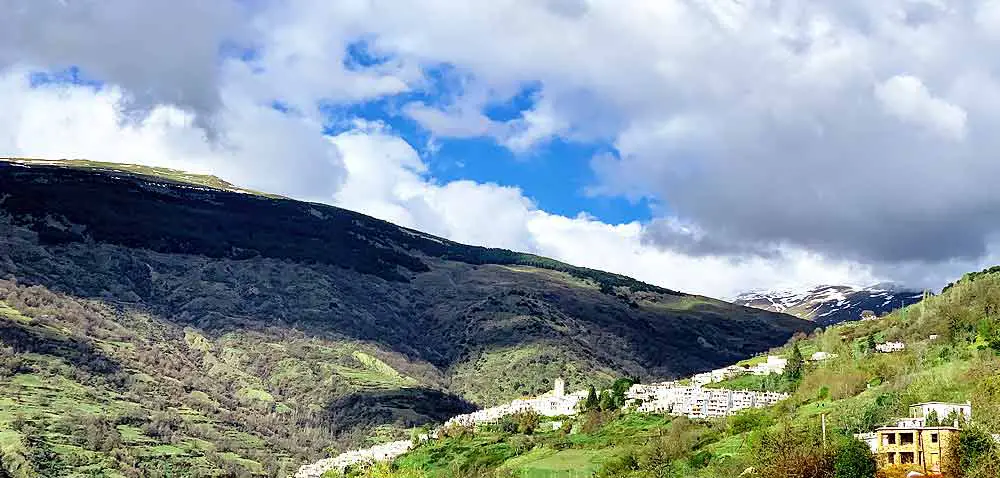 ** Views on the Pitres - Pampaneira Hiking Trail
Pitres - Pampaneira

- This circular route will take you a little over 4 hours. It starts in Pitres and goes through the Barranco de la Sangre to join the Pampaneira path. On your return, you will ascend the great staircase (known as EL TUBO with more than 700 steps) then join the GR-7, pass the chapel, and end the journey back in Pitres.

Find more detailed information here: Pitres ➜ Pampaneira.

Pitres - Capilerilla

- A circular walk of about 2.5 - 3 hours. This walk takes you along the "acequias" or "irrigation canals" that distribute precious water over the land of the Alpujarra. You will enjoy incredible panoramic views of the Alpujarra and its white villages.

Find more detailed information here: Pitres ➜ Capilerilla.

Path PR A 29 - Pitres - Chorrerón de Pitres - Pórtugos - Tajo Cortés Waterfall - Bermejo River

- A 3-hour trail that runs through the Alpujarra and specifically through the towns of Pitres, Pórtugos, and Capilerilla, almost entirely following the PR A 29 path. You will pass the El Chorrerón and follow the Bermejo River.

Find more detailed information here: Pitres ➜ Pórtugos.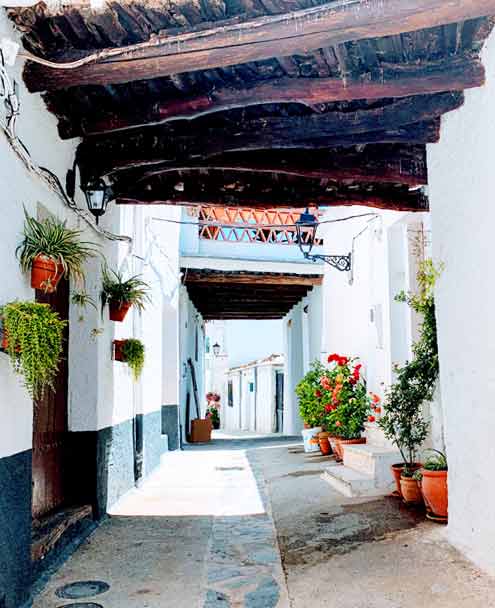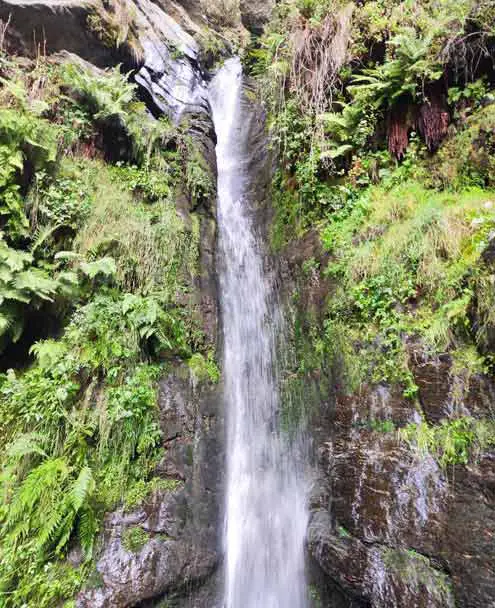 ** Hiking from Pitres past the Salto de Paula (waterfall)
Recommended Hiking Book!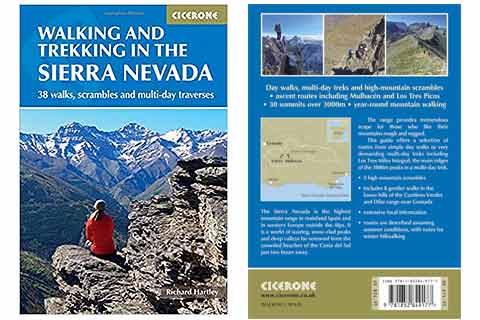 ---
Book a Tour to Pitres
Tours leave from Granada and last a
full day
. They are a great way to see the sights without much effort on your part!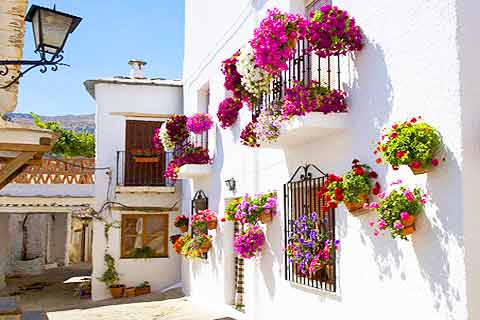 ---
---
Town Hall / Information
PITRES AYUNTAMIENTO - TOWN HALL
Address - La Tahá Town Hall - Plaza del Ayuntamiento, nº 1 - 18414 Pitres (Granada)
Tel: 958 766 061
Fax: 958 765 201
Website: www.lataha.es
Opening Hours:
Monday to Saturday: 10:00 – 14:00
---
Village Information
| | |
| --- | --- |
| Region: | Las Alpujarras |
| Municipality: | La Tahá |
| Post Code: | 18414 |
| # of inhabitants: | ~ 420 |
| Inhabitants: | Barbarians or Pitreños |
| Distance to Granada: | 74 km |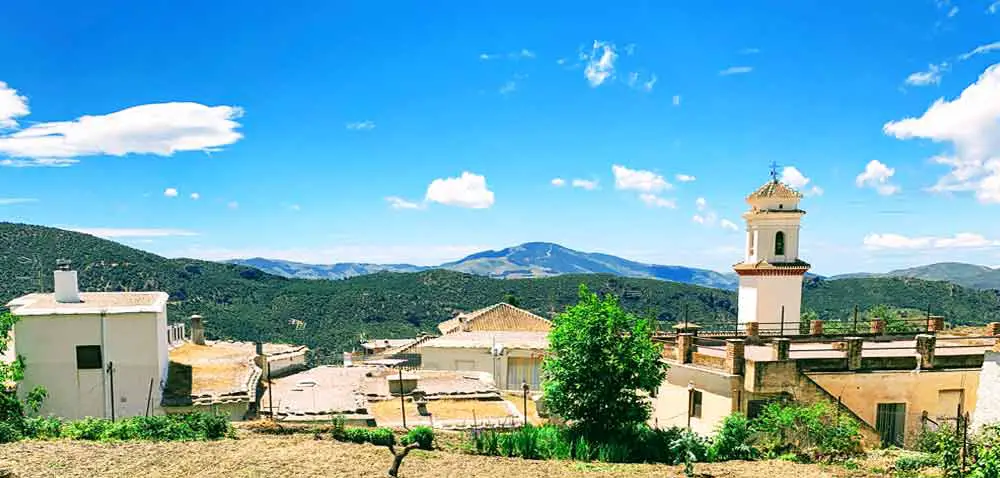 ---
Other Important Information About Pitres
1. Distances to Other Towns in La Tahá from Pitres:
Villages / Hamlets
Mecina Fondales: 0.8 km
Ferreirola: 1.3 km
Atalbéitar: 1.3 km
Pórtugos: 1.4 km
Busquístar: 2.8 km

---
2. Pitres Fiestas
Pitres' most popular festivals are celebrated every year in the second half of August in honor of the patron saint of the town,
San Roque de Montpellier
.
It is also worth noting the Feast of the Christ of Expiration, which is celebrated two Fridays before Good Friday.
---
3. When to Visit Pitres
During May and October, you are most likely to experience good weather with pleasant average temperatures that fall between 20 degrees Celsius (68°F) and 25 degrees Celsius (77°F).
The hottest season is in June, July, August, and September.
Pitres has dry periods in June, July, August, and September.
The warmest month is July with an average maximum temperature of 33°C (91°F).
The coldest month is January with an average maximum temperature of 12°C (53°F).
November is the wettest month.
July is the driest month.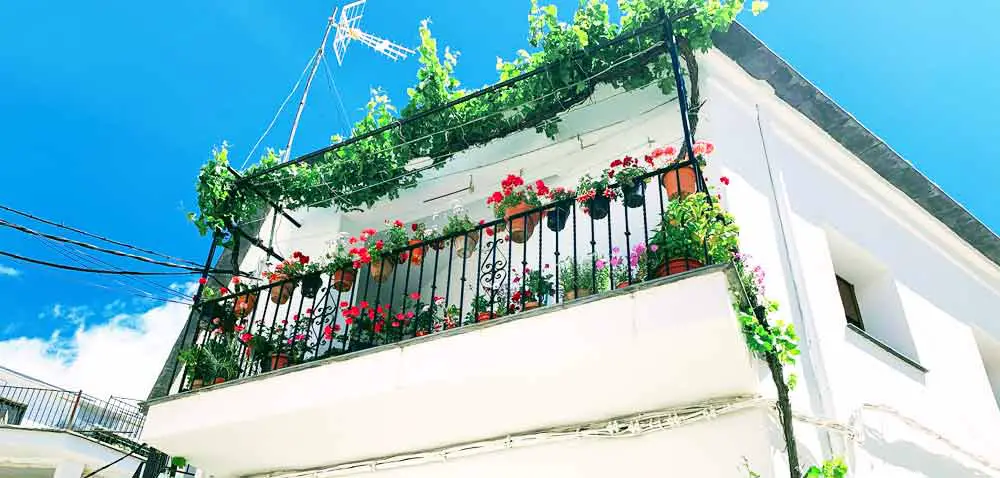 ** Typical Flower-Filled Balcony and House in Pitres.
4. How to Arrive
Pitres is located just 74.5 kilometers south of the city of Granada and the Granada airport.
From Granada - Driving south from Granada on the main N-323 highway towards the coast, look for the signs indicating "Las Alpujarras" and "Lanjarón" as you pass over the mountains. Exit the highway and head towards the left (east). Roads will be clearly marked. After passing the town of Lanjarón and just before entering Órgiva, look for the sign indicating directions to Pampaneira, Capileira, and Bubión.

After passing Pampaneira, continue straight and you will soon reach Pitres on your left.

From Malaga - take the A-7 motorway (or the older, slower, and more scenic N-340 highway that runs parallel to the A-7) east towards Almuñécar, Motril, and Almería. In about 20 minutes after passing Almuñécar and when you reach Salobreña, take highway N-323 towards Granada. Pitres is located only 54 kilometers from Salobreña. As you climb the mountains and pass a dam and a lake on your left, look for signs indicating "Las Alpujarras" and "Lanjarón". Exit the highway and head towards the right (east). From here follow the directions noted above from Granada.
From Almería - take the A-7 and/or N-340 highway west towards Málaga and Almuñécar. When you reach Salobreña (before Almuñécar), take highway N-323 towards Granada. Follow the directions noted above.

Who are we?
An American expat with over 20 years of experience living and traveling in Spain, specifically in Malaga and Granada. Darsey is a seasoned explorer of Andalucia. Drawing from decades of immersive experience, she offers deep insights into this enchanting region of Spain, including off-the-beaten path destinations, the best places to stay, and the top bucket list activities to try!
More...
Want to Save on your Next Trip?
Save money on your next trip with our favorite travel websites!
Find the Cheapest Hotels:
The Largest Selection of Villas & Apartments:
Cheapest, Most Reliable Car Rentals:
Best Bus & Train Fares:
Huge Selection of the BEST Tours & Activities
Discount Tickets to Museums & Attractions

See our Full List of Travel Deals & Site Recommendations Here.
5. Parking
Pitres is such a tiny town that parking is not an issue. You can park on the main road traversing east/west on the opposite side of the town entrance or drive into the village and find parking in the main square.
---
The Villages of the Alpujarras
Explore the Province of Granada