Melegís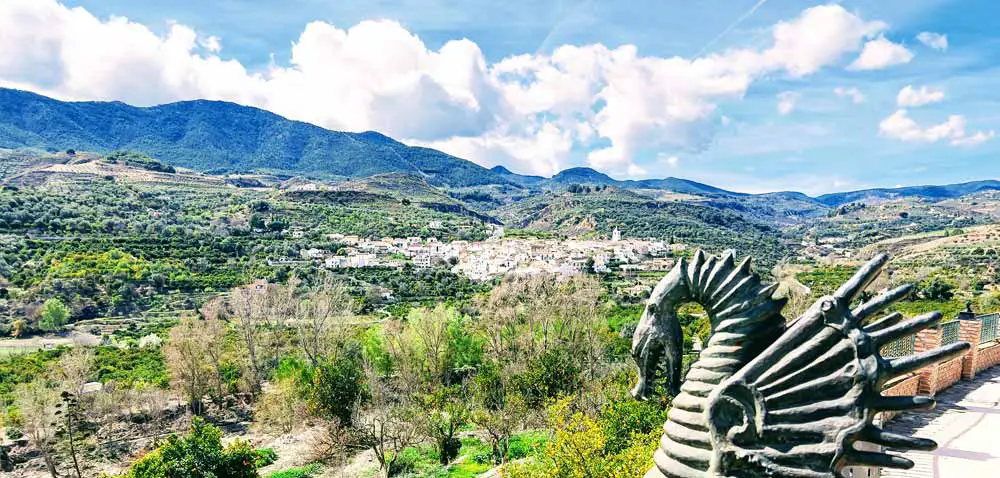 💡
Affiliate Disclosure:
  Please be aware that some links on this site are affiliate links, which means that we might receive a small commission ☕ if you click a link and make a booking. This helps us to keep the site running and will NOT affect the price you pay in any way... ❤️ 🙏 🙏 ➜
How does this work?
---
The Fragrant Village of Melegís...
Deep in the Valley of Lecrin you will come across a number of small villages that thrive on the fertility of their land, Melegís is one. While blossoming orange and lemon trees dot the horizon, their sweet perfume floats on the warm breezes that permeate every corner of this lovely town.
Water is also in abundance here. The ancient Muslims left their mark on Melegís through the development of an immense irrigation system... gushing water canals line every street and alley. You can also see the remains of Moorish watchtowers, castles, and their traditional narrow streets and gardens.
But the best thing about Melegís is its natural scenery and breathtaking views. Being 553 meters above sea level the village enjoys extraordinary panoramic views of the
Béznar Reservoir
, the lush valley bursting with citrus orchards, and the pretty villages of
Restábal
and
Pinos del Valle
in the distance.
---
Explore Melegís ➜ in the Lecrin Valley!
Where is Melegís?
Located at the foothills of the
Sierra Nevada mountains
along the Torrente River you will find the quaint village of Melegís. It is part of the municipality of
El Valle
, a small cluster of villages (Melegís, Restábal and Saleres) in the
Lecrin Valley
... in the Province of Granada.
Melegís is 40-minutes from the historic Alhambra palace in Granada, one-hour from the slopes of the Sierra Nevada, and just 30-minutes from the coast (Costa Tropical).

** The Béznar Dam - Melegís, Spain
Other nearby towns to explore in the Lecrin Valley are Restábal, Chite, Dúrcal, Saleres, Talará, Murchas, Mondújar, La Loma, Albuñuelas, Béznar, and Pinos del Valle.
---
What is the History of Melegís?
Once known as "Melexís", Melegís has been home to both Nasrid royals and Christians of the highest nobility.
---
Melegís ➜ Things of Interest
The Church of San Juan Evangelista in Melegís
Sitting right at the center of Melegís is the
Iglesia San Juan Evangelista
(
Church of Saint John the Evangelist
). For such a small town (and having been restored in 2004), the church is quite striking and in wonderful condition.



** Iglesia San Juan Evangelista - Melegís, Spain
This beautiful monument was built in the Mudejar and Renaissance style between 1562 and 1567 by Bartolomé Villegas. Unfortunately, the church caught fire in 1568 and its coffered ceiling was destroyed. It was later rebuilt in 1599. In the 18th century a baroque altarpiece was added.
---
Emblazoned Houses - Melegís
One thing to look out for as you meander through Melegís are the family crests that adorn many of the old manors in town.
In the 18th century, important noble families with political influence built large homes here, upon which they placed their coats of arms. See if you can find the homes of 'Los Pineda', 'Saenz-Diente and Miras' or 'Calafor'.
---
Fountain & Lavadero in Melegís
Along one of the many winding streets in Melegís, behind the street with the emblazoned houses, you will find the lavadero (washing house) and village fountain.
Until 1974 the only access to water in the village were these fountains. The locals would gather here to collect water for their homes, the women would wash clothes, and the men would water their thirsty mules.


** Fuente & Lavadero - Melegís, Spain
Today these monuments remain to remind us of our past, our customs and traditions, and how far we have come on our path to a new future.
---
Thermal Springs in Melegís
Just 2 km from Melegís you will find ancient thermal springs. The water comes out at a constant temperature of 24 ºC, which is perfect for bathing. This spring has been known about since ancient times and the healing properties of its waters have been extolled for the treatment of certain skin conditions.
In 2002 the town commissioned a three-part project in the hopes of enhancing the area around Melegís and to honor the natural environment. A new building and swimming pool were built next to the spring in the middle of an orange grove overlooking the Béznar lake.
---
Mirador de las Alvinillas - Melegís
The area around Melegís and the Lecrin Valley is known for its outstanding natural beauty. People come to this area to get away from the overcrowded villages of the Costa del Sol and Costa Tropical in favor of gentle rolling hills, hiking trails exploding with fruit trees, smaller rustic towns along the Béznar Reservoir, and... the quiet.



** Mirador de las Alvinillas - Melegís, Spain
As you enter the village of Melegís you will see the Mirador de las Alvinillas on your left-hand side (from the north along the GR-3204 road). This picturesque viewpoint is the perfect place to take in all that the Lecrin Valley has to offer. The promenade wraps around the eastern flank of the village and has been adorned with colorful mosaics and interesting artwork along its entirety. From here you will see the quaint villages of Restábal and Pinos del Valle in the distance and the bright blue waters of the Béznar Reservoir below.
The Béznar Dam & Reservoir - Melegís
The Béznar Dam and lake lie just below the town of Melegís. They are located along the Izbor and Torrente rivers, near the banks of the village of Béznar.
The dam was built to improve irrigation for the farmers of the Costa Tropical and to supply water to nearby towns. The dam also protects the area from flooding and supplies water to the hydroelectric power station in Vélez de Benaudalla (another fine village worth visiting).
---
Las Eras de Melegís

** Plaza with Orange Trees - Melegís, Spain
In the area of town known as "Las Eras de Melegís", named for the threshing floors that once existed here, there is a small plaza dedicated to the Heart of Jesus.
Here you will find a small statue of Jesus standing atop a wide pillar. Halfway up the pillar there is also an opening with a dedication to San Antonio.
---
Los Naranjos - The BEST Restaurant in Melegís
Surprisingly, this tiny village has a great restaurant and it's a favorite among the locals. If you plan to eat here on the weekend, a reservation is recommended. Call: +34 958 793 414
RECOMMENDED RESTAURANT - MELEGIS

---
Best Places to Stay near Melegís
If you are thinking about staying in the Lecrin Valley, we recommend the following...
---
Hiking Trails Around Melegís


** Hiking Trails Surrounded by Orange Groves - Melegís, Spain
---
BEST Excursions Near Melegís in the Lecrin Valley
RECOMMENDED TOURS - MELEGIS - LECRIN VALLEY

---
Recommended Hiking Book!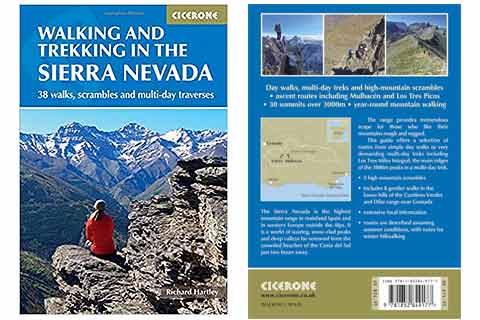 ---
Distances Between Melegís and Other Villages
Lecrin Valley Towns
Restábal - 4 min (1.6 km)
Lecrin - 5 min (3.4 km)
Pinos del Valle - 12 min (6.0 km)
Albuñuelas
- 13 min (6.5 km)
Dúrcal
- 16 min (10.1 km)
Conchar - 19 min (16.8 km)
Capital & Alpujarra Villages
Granada - 42 min (41.6 km)
Lanjarón - 24 min (17.0 km)
Órgiva - 37 min (34.2 km)
Pampaneira - 55 min (38.8 km)
---
Melegís Village Information
| | |
| --- | --- |
| Region: | Alpujarra & Lecrin Valley |
| Municipality: | El Valle |
| Post Code: | 18658 |
| # Of Inhabitants: | ~ 414 (2015) |
| Inhabitants: | Melegileño, -ña |
| Patron Saint: | San Antonio de Padua |
| Distance to Granada: | 42 min (41.6 km) |


** Interesting Details - Melegís, Spain
---
Melegís Fiestas and Customs
Jueves Lardero (Día de la Merendica)
- Thursday before Ash Wednesday - a day of celebration after fasting for Lent. The local people of Melegís head to the countryside where they enjoy a large feast together.
Glory Saturday - after the Resurrection Mass - a bonfire is lit in the village and enjoyed by all. The locals will often purify themselves by washing their faces in a nearby stream.
---
Melegís Gastronomy
The cuisine in Melegís is a combination of what you will find in the Alpujarras and the Costa Tropical. You will find a large assortment of grilled meats and sausages, migas (breadcrumbs with sausage and garlic), fresh seafood, and fresh salads with orange slices, preserved lemons, or locally made goat cheese.
Some more traditional favorites include: lemon gazpacho, albondigas (meatballs) with cod, stews, garlic soup, fried meat with tomato and garlic, and potato salad with preserved lemon.
And, for dessert: Pan de higo, flan, or fresh fruits and cheeses.
---
Getting to Melegís
From Granada:
Get on GR-30 from Calle Gran Vía de Colón (11 min (2.9 km)), then follow GR-30 and A-44 to GR-SE-27. Take exit 160 from A-44 (19 min (31.7 km)). Then take GR-3204 to Calle Naranjo in Melegís (8 min (4.6 km)).
From Lecrín: Take GR-3204. Arrive at Melegís.

Who are we?
An American expat with over 20 years of experience living and traveling in Spain, specifically in Malaga and Granada. Darsey is a seasoned explorer of Andalucia. Drawing from decades of immersive experience, she offers deep insights into this enchanting region of Spain, including off-the-beaten path destinations, the best places to stay, and the top bucket list activities to try!
More...
Want to Save on your Next Trip?
Save money on your next trip with our favorite travel websites!
Find the Cheapest Hotels:
The Largest Selection of Villas & Apartments:
Cheapest, Most Reliable Car Rentals:
Best Bus & Train Fares:
Huge Selection of the BEST Tours & Activities
Discount Tickets to Museums & Attractions

See our Full List of Travel Deals & Site Recommendations Here.