The Village of Dúrcal
In the center of the Lecrín Valley lies Dúrcal, a village quickly becoming a town. Its central location - on the southwest side of the Sierra Nevada and mid-way between Granada capital and the Costa Tropical - makes it ideal as a stopping point on one's journey.
Slowly people have discovered its traditional Spanish charm and the serenity of the valley setting. It is the main city in the Lecrín Valley so most of the commerce is conducted here, although Granada is a mere 20 - 25 minutes away.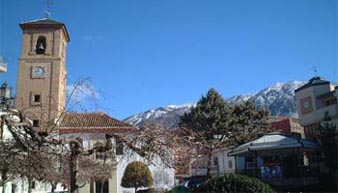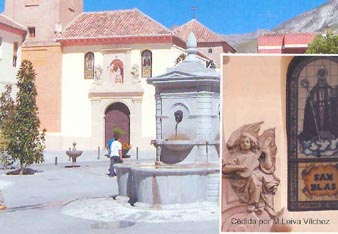 ---
History of Dúrcal
Evidence of inhabitants here has been found from as far back as 4500 years B.C. by way of archaeological finds from the Neolithic age - utensils, vessels, polishing stone and the like. Later findings along the Río Dúrcal indicated the area as a natural passageway between the Mediterranean coast, La Alpujarra and the Granada area.
Among the early settlers were those from the Middle East in search of raw metals, followed by the Phoenicians, Greeks, Carthaginians, and Romans. It is the presence of the Roman civilization here that has yielded the majority of artifacts which are housed in several museums in the surrounding area.
Between the Roman and Arab eras, not much is known about the area. But from the 8th C. - 15th C. during the Moorish reign, the area became a bustling agricultural center protected by forts and walled areas that oversaw the valley's passageways. The villages therein were dedicated to the growth of citrus fruits and mulberry trees which were necessary for silk production. It is from this time that the village names evolved, such as Dúrcal meaning Durkar in Arabic but whose significance is unknown. Also during this era were built numerous buildings of architectural importance.
But in 1491, during the start of the reconquest of the area by the Catholic kings, all that had been built in the Lecrín Valley was completely destroyed. By 1492, Granada had been conquered and the Moorish era came slowly to an end. After the expulsion of the Moors that ended in 1571, Dúrcal's economic life came to a halt with the cessation of their agricultural and craftsmaking trades and its population dwindled to a mere 320 inhabitants in 1587 and 160 in 1730.
During the 19th and 20th centuries the population again grew albeit slowly, and the agricultural trade was revived. In the last 20 years, Dúrcal has grown in diversified ways, developing economies in industrial and service areas, as well as more recently attracting rural tourism. A new future is being written for this town with a long history of upheavals.
Village Information
| | |
| --- | --- |
| Region: | Lecrin Valley |
| Post Code: | 18650 |
| # of inhabitants: | ~ 6551 |
| Inhabitants: | Durcalenses o Durqueños |
| Distance to Granada: | 25 km |
Where is Dúrcal located?
Getting There
---