Costa Tropical Weather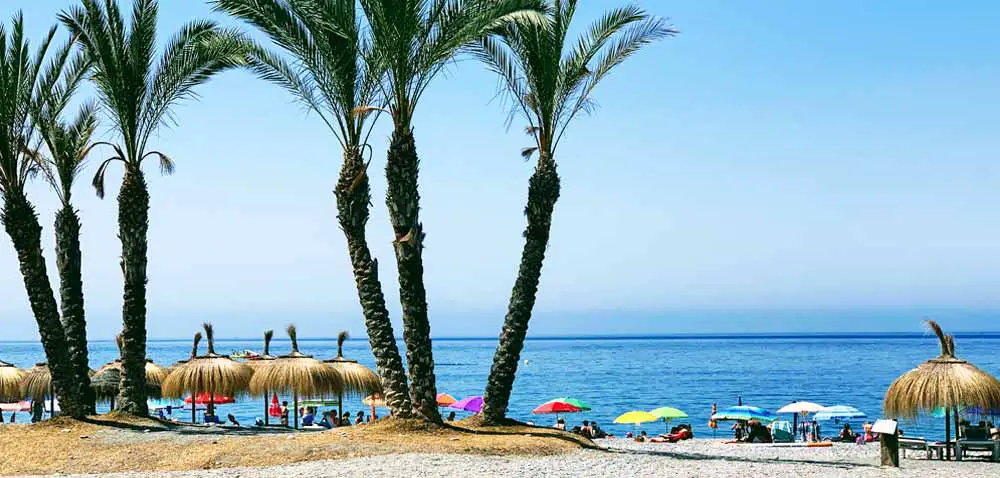 The Costa Tropical Weather
The
Costa Tropical
, located in southern Andalucia along the Mediterranean Sea, has a
subtropical microclimate
. This is characterized by mild, relatively warm winters and hot summers, thanks to the shielding effect of the nearby Sierra Nevada mountains and the warming influence of the Mediterranean Sea. 🌴
Here's a general idea of what you can expect throughout the year:
Spring (March to May): Spring is typically warm with temperatures ranging from 15°C to 25°C (59°F to 77°F). This is a pleasant time to visit as the weather is not too hot, and the landscape is lush from the winter rains.
Summer (June to August): Summers in the Costa Tropical are hot with temperatures often reaching up to 30°C to 35°C (86°F to 95°F) during the day. Nights are cooler, typically around 20°C (68°F). This is the perfect time to enjoy the beautiful Costa Tropical beaches and water activities like kayaking excursions.
Autumn (September to November): Autumn sees pleasant temperatures, similar to spring, and can be a great time to visit. There can be some rainfall, but it's usually not excessive.
Winter (December to February): Winters are mild and relatively warm by European standards, with daytime temperatures usually ranging from 10°C to 20°C (50°F to 68°F). While it's cooler, especially at night, temperatures rarely reach freezing.
---
We Love Our Subtropical Micoclimate!
But what does it mean? A subtropical microclimate 😍 refers to a local climate that is different from the surrounding area, often characterized by milder, more moderate conditions typically found in subtropical regions.
To understand this, let's break it down:
Subtropical: This generally refers to regions that are near but not quite in the tropics, typically between the 23.5° and 35° latitudes in both the northern and southern hemispheres. These areas tend to have warm (but not excessively hot) summers and mild winters, and they often experience significant rainfall.
Microclimate: This term refers to the climate of a very specific, small area that is different from the climate of the surrounding area. Microclimates can be influenced by a variety of factors, such as elevation, bodies of water, vegetation, and urban structures.

** Costa Tropical Weather ➜ Sunny La herradura Bay
So, a subtropical microclimate can be found in a specific location that, due to geography or other factors, has a climate similar to subtropical regions, even though the larger surrounding area does not. This can result in favorable conditions for growing certain types of plants, such as tropical fruits, that may not thrive in the broader region.
A good example of this is the Costa Tropical, which, thanks to the protection of the Sierra Nevada mountains and the warming influence of the Mediterranean Sea, has a microclimate that allows the cultivation of tropical fruits such as mangoes, avocados 🥑, and custard apples, which is unusual for Europe.
The Costa Tropical gets plenty of sunshine throughout the year, around 320 days a year in fact 🌞, AND has low annual rainfall... making it a popular destination all year round. But as with any region, the weather can vary from year to year, so it's always a good idea to check the forecast before you travel!
💡
Affiliate Disclosure:
  Please be aware that some links on this site are affiliate links, which means that we might receive a small commission ☕ if you click a link and make a booking. This helps us to keep the site running and will NOT affect the price you pay in any way... ❤️ 🙏 🙏 ➜
How does this work?
---
How to Arrive to the Costa Tropical
From Granada
: Drive south on the A-44 for 45-50 minutes to reach the Costa Tropical.
From Málaga: Head east on the A-7 for 50 minutes to reach the Costa Tropical.
---
---