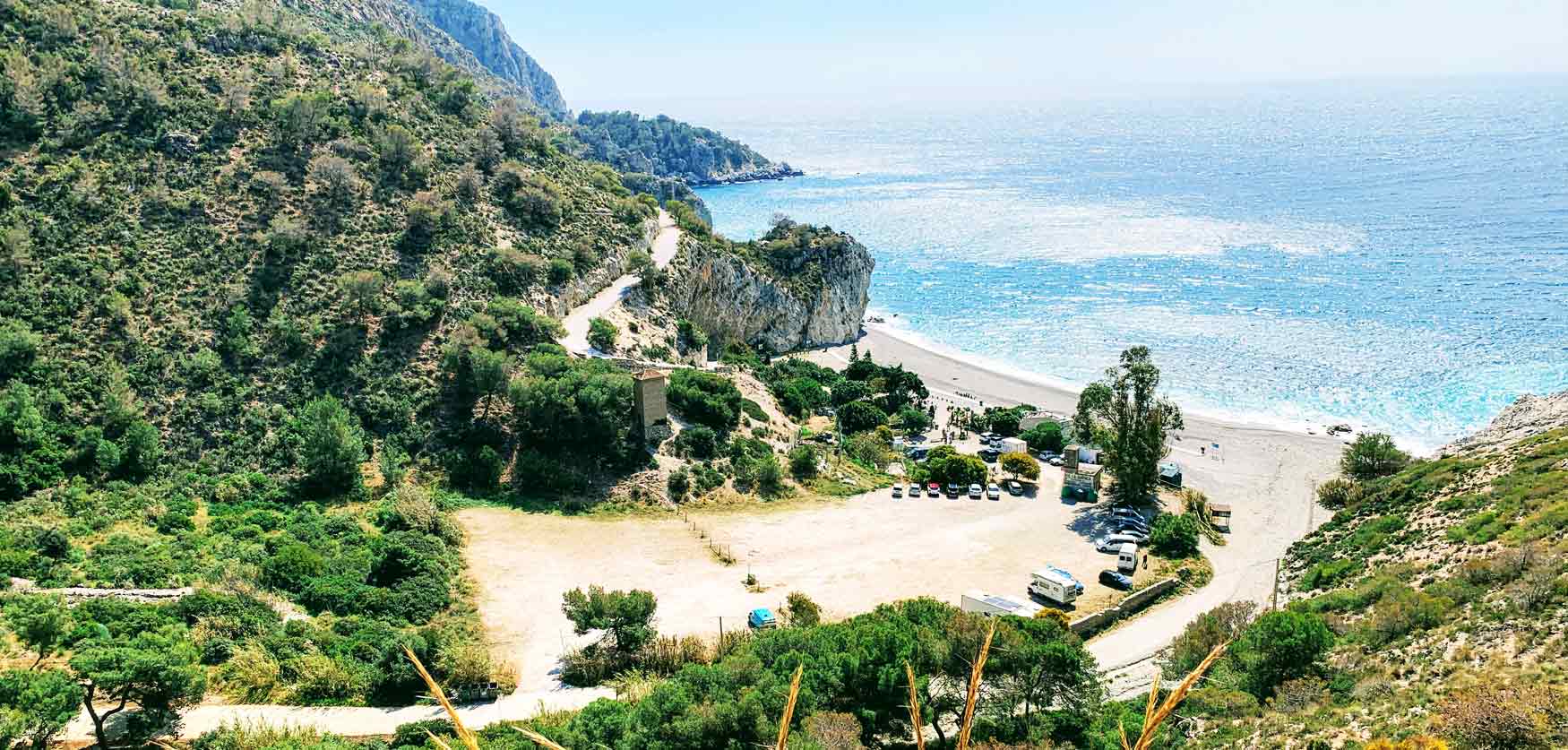 Cantarrijan Beach
Cantarriján Beach in La Herradura
Located between La Herradura and Nerja and within the borders of the Paraje Natural de los Acantilados de Maro – Cerro Gordo is Playa Cantarriján. It lies at the westernmost end of La Herradura and is not well known to many.
The beach derives its name from the cliffs surrounding it that run down to meet the sea at its shoreline. It is isolated and protected by these very cliffs which make it a great choice for a playa naturalista or nudist beach.
The area around it is naturally very beautiful, being in an undeveloped nature reserve also adds to its charm. The beach is considered to be family-oriented and is very clean; all sand types can be found here.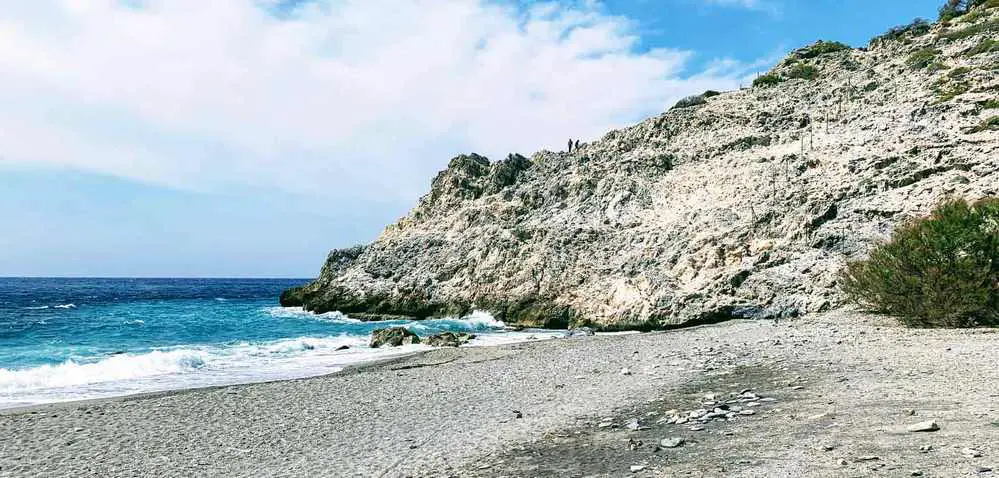 Because the area is so natural and designated as a 'Playa Nudista' many bohemian types seem to gather here. On any given day you will have a number of artists selling their jewelry and other items on the beach. There is sometimes a group selling beach wraps that strut up and down the beach showcasing their garments in a very interesting fashion. Massages are also available.
There are two restaurants / bars located here, La Barraca and La Bola Marina. Both are excellent and are open most of the year. They serve typical Spanish cuisine and a lot of seafood. They sit right on the beach and are very convenient for a mid-day lunch break and then back to the sand. They will even serve drinks on the beach.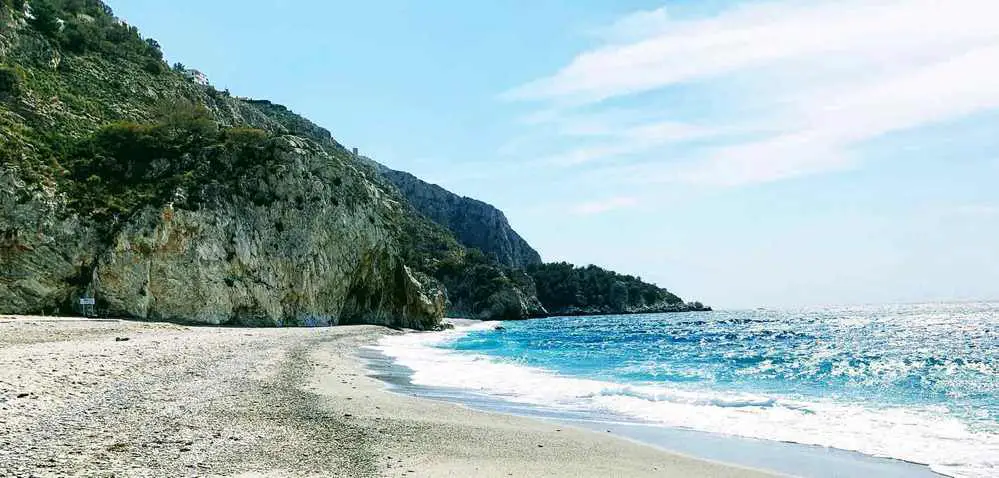 Lounge chairs and umbrellas are available for around 5.00 Euros / day. Showers and toilets are also available at La Barraca.
Recommended Beach Hotels: Hotels in La Herradura and Hotels in Nerja are both close enough to spend a day at this beach.
For fun: Relax and get a massage beachside or scale the rugged cliffs to the west and take the path that runs along the coast towards Maro.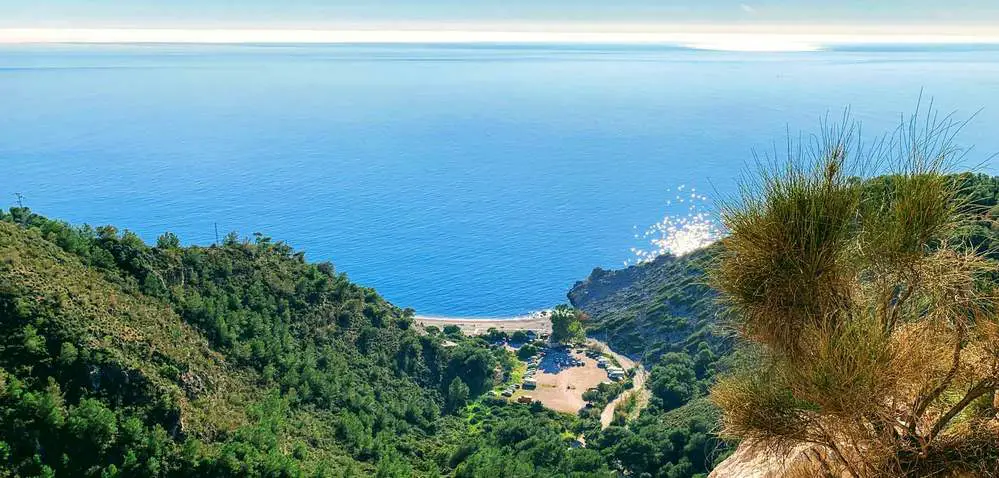 ---
Beach Information
| | |
| --- | --- |
| Type: | Playa Naturalista |
| Length: | 350 Meters |
| Surface Area: | 13,600 m2 |
| Max Capacity: | 2,779 users |
| Sand Type: | Fine to Course sand and pebbles |
| Facilities: | Parking, Showers, Restrooms, Restaurants, Massage, Umbrellas & Sunbeds |
| Access: | Via the steep road off of the main Cerro Gordo road or a gentler road off of the main N-340. |
Getting There
To access the beach there are two options. First, there is a winding road that leads down off of the main Cerro Gordo road. This option is very steep around the cliffs and can be a little scary. The second option, which is far better, is the new paved road that runs from the main highway (N-340). This road is in great condition and also has guard rails for added protection. A large parking lot can be found just at the end of this road before you reach the beach.
Due to an increase in popularity, during the summer months now driving access is limited. From mid-June until September you must park in the parking lot at the top or along the N340 highway and take a shuttle that runs up and down all day.
Where to find the Cantarriján Beach
More Outdoor and Nature Activities