Markets in the Costa Tropical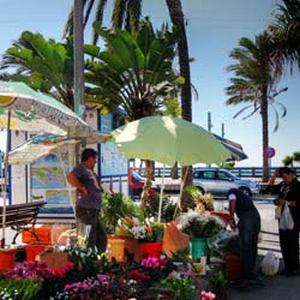 One very old Spanish tradition that is still widespread and enjoyed today are the outdoor "mercados" or markets. There are about four types of markets in the area: (i) the Municipal Market (local food, flower and spice market), (ii) the stationary craft market, (iii)the Mercadillo (outdoor crafts / wares market) and (iv) the outdoor antique market.
Municipal Market (Food, Flower and Spice Market)
This market is open daily Monday – Saturday from 9:00 – 2:00. You can find all types of fresh locally grown products here; there are many booths of fruits, vegetables, eggs, cheeses, meats, fish, homemade bakery items, olives and pickles and fresh cut flowers and plants. During one or two days a week there is also an additional spice booth with every spice found under the sun, all locally grown, as well as a plethora of delicious teas. Every town within the Costa Tropical has its own Food, Flower and Spice Market; check individual town sections for times, location and additional details.
<< Back to the Costa Tropical
Explore the Markets
Stationary Craft Market)
There are several craft markets / craft tents around that remain stationary for many months at a time, usually during the summer months. Two of these markets can be found at the Plaza Abderramán beside the San Cristobal Rock in Almunecar and behind the Almunecar Food Mercado in the center of town. Both of these markets sell souvenir like items that are inexpensive and easy to carry home for family and friends. You should also take a look at the Province Houses in Majuelo Park, these items are hand made by local artists, and you will also find a handmade guitar shop here.
The Mercadillo (Outdoor Crafts / Wares Market)
This is a fantastic market that gets bigger and better every year. It is held once a week in each town within the Costa Tropical. In other words, it is the same market in each town with the same booths and vendors, they just move to a new location every day of the week. Here you can find items of all descriptions. There are vendors selling natural foods and spices, honey, dates, teas, nuts and candies. You will also find clothing, many ceramics tents, beautiful linens and pillows, kitchen ware, flowers and herbs and many souvenir and small trinket tents. You may also find live music during the busier months. This is the largest of all the local markets and has over 100 tents to explore. We highly recommend you visit this market at least once during your holiday; it is fun for the whole family. Find out when they will be in your area and their location here:
Almunecar Markets
,
La Herradura Markets
Outdoor Antique Market
The second largest market in the area is the Antiques Market. This one is similar to the larger crafts / wares market in that it rotates through the towns of the Costa Tropical and has a scheduled date of appearance in each town. This market is present once a month as compared to the other markets weekly schedule. The antique market moves through the Costa Tropical and then all the way down the Costa del Sol before returning again the following month, so if you miss it in your area you can always find it somewhere else, but maybe with a little drive. The antique market has just that, antiques. It really is a glorified flea market. You can find very old interesting Spanish and European items but you will also find a lot of second hand clothing and house wares. There are also a few tents with newer stock such as Moroccan lighting and furniture. Like any flea or antique market it is definitely worth a look, you never know what you might find. Find out schedule and location information for your town:
Almunecar Markets
,
La Herradura Markets